I
I was alone long before my sister went missing. Somewhere in the Yukon's wilderness (she loved Calvin and Hobbes and the Yukon had always been a dream, minus the toboggan), Amelia disappeared. When she traveled, I'd rarely hear from her, save for the occasional postcard filled with canned phrases like "You'll never guess where I am!" or "I hope you're doing well!" or "Wish you were here!." Amelia wasn't the best communicator, but she had a presence that was comforting on the rare occasions when she was present.
But she traveled too often for us to really connect and, before I knew it, she had drifted so far that now she was completely gone.



II
I remembered the day I accepted that she wasn't coming back.
Rebecca, her employer's lawyer, a petite woman with large, round glasses who distractingly swiveled in her chair while talking to me through a video call.
"I'm sorry for your loss, Mr. Kasai," she said flatly while absentmindedly closing her file and tidying her desk, as if politely shooing me out of the virtual room. "Your sister always had quite a… spirit."
"Palmer," I corrected her. "And, well, I mean, she's not dead,"
"Oh, of course." Rebecca and turned to place the file back into one of the cabinet drawers behind her.
Rebecca had first called two weeks prior to let me know that Amelia had vanished on assignment somewhere in northern Alaska. The word "vanished" seemed to reverberate in the cavity behind my eyes as I sunk into my couch, phone still pressed to my ear. Obviously, there must've been a mistake. I remembered dropping Amelia off at the airport, travel pack already strapped to her back and hiking boots laced to her feet as if she was about to set off through the Yukon rather than board a plane northward.
I hunched over and with three deep inhales I closed my eyes. A mixture of doubt and hope began to take root. What if she was just missing? What if, on a whim, she decided to walk home and in three months' time, she'd be knocking on my front door, appearing with a smile as if the entire scare was a joke.
"I'm back," she'd almost sing, even though her returns were always temporary and brief.
With a heavy exhale, I looked up and stared at my white ceiling, imagining scenes of my sister shouting into the empty night sky for help. Rebecca was still waiting in silence on the other end, but I only held the phone to my ear perfunctorily. I wasn't present anymore. The silence stretched well beyond what was considered polite.
I lowered my gaze to our family portrait above the fireplace. I had just joined Amelia in high school and our parents thought the best way to commemorate my freshman year was with a professional photo to blow up and hang prominently in our house.
When we arrived at the studio, adorned in matching blazers and khakis with a certain Stepford-esque quality (sans the 50s post-modern chic), the photographer off-handedly mentioned that I had Amelia's face.
Everyone always said I had Amelia's face.



III
Amelia was a photographer by trade. But at heart, she was the most diehard vagabond I had ever known.
The last time Amelia returned home, she showed up for dinner in cargo pants and dreamcatcher earrings ("To ward off the nightmares," she said). Fresh off a months-long assignment roving through the American Southwest and then island-hopping in the South Pacific (spending the year in perpetual summer, which couldn't have been good for her skin), she returned with every intention of leaving our town as soon as possible.
After three glasses of wine during dessert, I asked if she ever wanted to take a break from traveling.
"Maybe one day" she replied. "But I'll always wonder what I'm missing out there."
She left a few days after that.
I, on the other hand, had never left the Pacific Northwest. We were raised in Milton Freewater, Oregon. The farthest I had traveled growing up was Pullman in nearby Washington. (An uncle was a professor at the university there, and we visited him exactly twice.) The Japanese side of my family had settled inland along the Columbia River Gorge after being forcibly removed from the West Coast by the government in the 1940s. (To their credit, my great grandparents never looked back, as if even the simple act of reminiscence would betray our patriotic loyalty.) Our town sat on a plateau and was drier than its sister towns in the Willamette Valley—scenery that more frequently comes to mind when one thinks of Oregon. My temporary move to Portland for college was therefore, for me, literally just a change in weather: from the plain east to the wetter coast. The 200-plus miles from my hometown was distance enough for me, and I rarely ventured beyond that radius. Not even for vacation.
My parents supported my decision to remain local. In their eyes, not everyone was meant for the wider world. As the younger child, they applied all their lessons learned through raising Amelia on me: don't run too fast or too far, reach for what's within your grasp and be grateful, dream achievable dreams like passing trigonometry or winning third place at your swim meet. My parents kept me away from disappointment.
But in Amelia's very casual treatment of exploration, she had an aura of youthful naiveté—even though she was the senior sibling. Although the world had been explored for centuries, it hadn't been explored by her and therefore hadn't been truly seen. The untold discoveries she could make compelled her to leave our home as soon as possible. She was filled with unrealistic idealism that imbued her with an undying ambition, a drive and a passion and a flair for drama that I could only attribute to her namesake, the Amelia. The world was meant to be seen, and by God, she wanted more than anything to see it.
Once, about a years ago, when everyone could start traveling again after the pandemic, Amelia and I got drinks at a neighborhood dive bar.
"So, what're your plans now that things are getting back to normal?"
I asked the question casually, but in my mind, I was challenging her to stay. That would be the real adventure, here in Oregon where Idaho sat at the edge of the world. I wanted her to stay. The time she spent at home during the pandemic was a nice change of pace. I experienced my sister in a way I had never really known since adulthood. At first, we became the closest to friends we'd ever been—a higher plane beyond merely siblings. But her homebound life started to grate her, as she acted out a simple future, and she began to form a distance between us, one in which she was static but not stuck, almost as if she was simply waiting for the world to reopen and at the same time readying herself to leave me behind again.
It wasn't that I needed her to stay, but I felt like I needed her presence more than she needed mine. I wanted to be more than just a stop on her journey elsewhere.
"Travel. Definitely go back to Europe for a bit, but I want to end up in Asia. Maybe spend a couple of months in India and then make my way through Laos, Thailand, Cambodia, and then Vietnam."
Amelia answered with such confidence, ticking off countries and continents as if she knew it was her destiny to visit the world's most incredible sites, and simultaneously as if she felt like she was running out of time to see them.
"Oh wow, what a trip," I responded through gritted teeth, feeling a tad jealous. "Maybe one day I'll go with you, and we can meet in some far-flung village. Like in Indonesia. Or the Philippines."
"That sounds perfect." She smiled, genuinely, as if she was imagining us abroad together.
There was a breath in the conversation, and then I added: "Just a question, but why the need to go everywhere? I mean, why do it now?"
"Honestly," Amelia began to reply before pausing, crinkling her nose a bit and putting her drink down, "I don't know that everything will still be there.
"I'm thirty-four and I'm good at what I do, and I don't want to stop capturing moments. I don't have a plan. I'll go where the job is or I'll get an assignment while I'm somewhere. I'll find work and really live through experiences.
"I'll come back to visit you and Mom and Dad, but when I come home, I want to be able to show you all that I saw something. Like literally: I'd bring pictures with me."
We both laughed.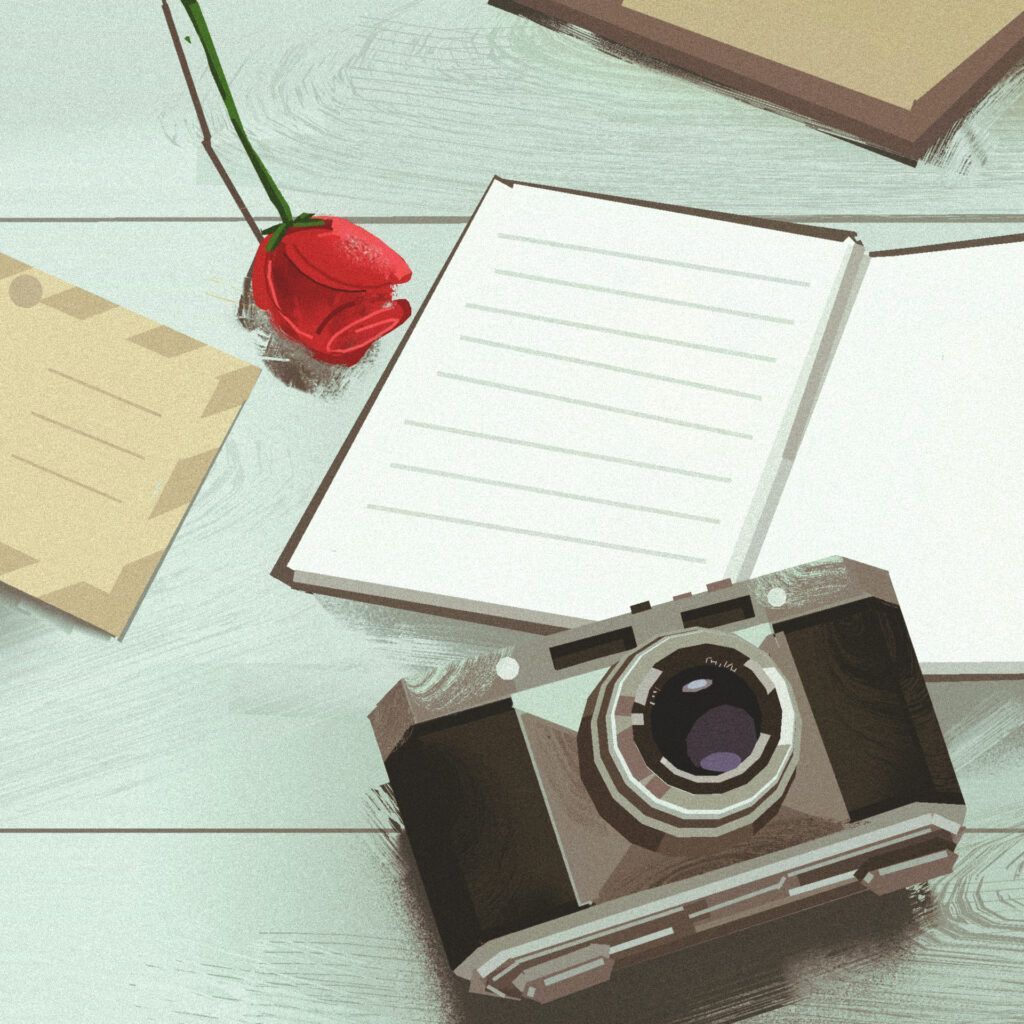 IV
Rebecca cleared her voice after a polite amount of silence.
"Ok, what now?" I stood up from my chair while asking my question and briefly considered slamming my fists on my desk for emphasis, but thought better of it at the last minute, so my arms just locked in ninety-degree angles with opposite facing fists, as if I was a malfunctioning robot. (Plus, by standing, the camera was pointed directly at my chest and Rebecca could only see my headless torso, locked arms and fists, and not the middlingly frustrated expression on my face.)
Amelia's latest employer was a company that packaged nature and travel photos for its clients. As a freelancer, Amelia wasn't tied to an office, but her current company still cared about its roving photographers and had tried in vain to attempt a search-and-rescue mission for Amelia. Rebecca had been helpful on our first call, supplying updates about the search team. She promised that they wouldn't give up on the search and hoped that her next call would yield better news.
"I'll be sure to contact you as soon as I know something," she'd said before giving me her warmest smile, one I could almost feel through the phone.
Our second call was on video and took a different turn. The company was ending the search and left Rebecca to break the news.
"I know this will be a difficult time for you, Mr. Kasai." She tried to assuage my concerns with vanilla understanding.
But truth be told, I didn't know just how difficult it would be. I couldn't even muster up enough outrage to pound my desk. How many times had I seen Amelia over the past decade? Besides the postcards and pictures sent from across the globe, I'd actually been in Amelia's physical presence maybe three dozen times—if you didn't count the year-or-so we spent in the lockdown (but even that time felt distant, as if she was a ghost haunting her childhood home, waiting for the right moment to cross over). While I couldn't grasp why she left so frequently, I could only view her as an impermanent feature in my life, even if she was immeasurably linked to me. And in her impermanence, how was it different now that she's missing?
I sat back down.
"What do we do?" I needed answers. (I also needed this call to be over, having barely suppressed the urge to cry.)
"I think your family should be prepared for the fact that she might not be coming back."
"Oh, okay."
Was Rebecca right? And how would we even begin that kind of preparation. I had been so casually jealous of Amelia growing up, like any younger sibling. But Amelia effortlessly glided through her life in Milton Freewater, above the fray and detached, watching us like God watches ants (that is, with the knowledge that there's a whole universe beyond this ant hill). She was at once a lightning rod onto which I channeled all of my frustrations, as if I would be able to transfer her essence through the sheer willpower of a rival sibling, while at the same time she was a goal toward which I would endlessly strive.
I remembered the day she left: May 25th. Exactly seven days after her high school graduation.
"Are you sure you don't want to stick around? Mom wants you to…" My voice trailed off, hoping to mask the lie.
"That's not true," she half-laughed. "She has you! Plus, Mom always said I was the one who'd leave. Her 'global child,' she always called me."
"That's only because you were obsessed with that stuffed globe you used to sleep with," I retorted.
Amelia's expression turned serious, and she stared into my eyes. "Look, we're family. But we'll never be more than this place unless we leave." She gestured around as if our home was decaying and unsafe, and not recently renovated.
"I know, but…" I paused. I could see on her face that Amelia was resolute and nothing I could say would dissuade her from leaving.
I couldn't help but tear up. "You know, you're really wise, for an old woman. Mind your knees out there."
"Sure, I'll need them to make money," she joked. And with that, she kissed me on the forehead, waved goodbye, got in her car, and drove away.



V
"I'll set up another check in," Rebecca said, marking something on her calendar. "How does next month on the 12th look?"
"That works for me." I had something to dread now. "Thanks for everything, Rebecca."
"Of course, Mr. Kasai."
I interrupted her. "Please, call me Palmer."
"Of course, Palmer. We'll talk soon. Hopefully sooner than you know." She ended the video call and I couldn't help but think about all of the things Amelia missed: from our Chinese New Year celebrations (even though no one in our family was Chinese and the Japanese didn't even celebrate the holiday), to our mochi pounding on American New Year's (a holiday upon which we imbued all of our lapsed Shinto beliefs through annual rituals), to my high school and college graduations, to Mom's cancer scare, to the time Dad fell out of a tree.
She wasn't there for my first boyfriend, Nate—who was nice enough, but wasn't a long-term type of guy. I once told him: "I just really want to be a dad. A stay-at-home dad, even. Maybe."
At the time, my job as the manager of a local coffee shop felt overwhelming. Even though I had a staff of just three, it was a lot of responsibility and long hours, and all I wanted instead was to be in a nice home with a fireplace, surrounded by my two sons and a daughter, sipping hot chocolate and playing Scrabble. (And, most importantly, not working.)
"But why? And why now? You're so young?" At this point, Nate was just curious. (He would break up with me within the year, but at the time he was genuinely intrigued.)
"I turn twenty-three next year. And I remember having a great relationship with my dad. And being gay, he loved me no matter what. Both of my parents did. And my sister.
"But as the younger child, they were always so protective of me. Overbearing, even, at times, I felt. I hated it. But I get it now. I thought they were trying to control my life, but they were just trying to guide me. Trying to impart their lived experience onto me."
Nate nodded, but I could see his eyes start to gloss.
Undeterred, I continued: "But I was almost too protected, you know. I didn't do anything for myself. Nothing was a trial or a hardship. I didn't even really come out to them because it was just so fine.
"But part of growing up meant growing out from under them. I wanted to fly. And their constant support kind of kept me grounded.
"And then, when my sister left, I saw what it would look like to really fly, to 'jump the nest.' I applied to a college in New York City and got in. But as I started thinking about leaving, I couldn't do it. I was too scared. Who would I know? What if I didn't like it? What if I never came back?
"And then it dawned on me: despite my parents' best efforts to lift me up, or maybe because of them, I grounded myself here. Comfortable and safe, maybe I'd never leave."
My winding answer lost Nate's interest somewhere after wanting to fly, so I sprinted toward the nearest conclusion.
"I guess, why not have kids then? Put in some roots. And I'm not exactly in the line of work where there's a 'wrong time.' So why not now? Some people aren't meant to fly. Some people just build nests."
Nate now had this vacant look on his face, as if he wanted to say something in response but was still formulating it and at the same time resisting the urge to say anything at all.
Finally, he opened his mouth, hesitated, and then asked, "What makes you think you'd be a good father?"
I didn't really answer him then.
Right before he broke up with me, he said, "There's no there there, you know?" Having reduced our relationship to a five-letter word, he continued, "But there could be. Come with me. I'm moving to San Francisco."
"Why?" I asked. I was never the risk-taking type.
"You're holding yourself back. There's no reason you shouldn't be doing whatever you want. And deep down you always wanted to leave this place like your sister, right? Come with me. Fly!"
"No." We ended things a few exchanged sentences later.



VI
Before I turned off my computer after Rebecca's call, I remembered that open in a different browser tab was an email from Amelia. She sent it from Fairbanks, Alaska. We were making plans to meet up in a few months at her next destination. Year after year, Amelia would send my updates about her travels and ask me to visit. And I'd reply with an excuse for why I couldn't make it work—it wasn't the right time or I was too busy to plan a trip or I couldn't take the time off, et cetera.
I'd end the email or call or letter with, "Maybe next year."
This year, I was determined. (I had just finished Eat, Pray, Love.)
"I'm doing it this time. I want to travel before I become a dad."
Her reply didn't ask how I'd become a father or when or why now. Instead, she asked: "When can you leave?"
"Did you know," I began to type, "that I never actually came out? Mom and Dad (and you, I guess) always just knew and we danced around it endlessly. And when I told them about Nate, they just acted like nothing was different. I never really came out to my friends either. Everywhere I went, I was just gay.
"Okay," I continued, "just bear with me for a second. Not coming out—not as in 'staying in the closet,' but more like having glass closet doors where everyone could see you the whole time—isn't something I'd ever recommend. I wouldn't say it's harder. I actually don't know.
"It was more about navigating through life with my baggage on display, hoping that someone would pick up on the cues and help me say it out loud. I kinda just figured it out on my own. As rewarding, maybe, as that was, I could've used help.
"I can't say that I know exactly what I'm doing, or that I'll do everything right, with you there, I know I can do it.
"So, how about this summer?"
Amelia responded in seconds: "Okay! Let's do this."
She planned our trip, but disappeared before we could execute her plan.
I closed the email and shut down my computer, staying seated while staring at the blank monitor. Through the reflection on the screen, I saw Amelia's face staring back at me. People always said I had her face.