I am standing outside my parents' bedroom window and there are socks, but no shoes, on my feet. They have shut them again the way they often do when there's words to be said, but anyone who really wanted could listen in anyway.
The sun feels like a scab on my cheek, so I pick it, though I discover, with disappointment, nothing besides an unscratchable cluster of freckles. It's the sun that brings them out, so all summer I walk around like a cartoon character, with my big, shit-brown eyes, the rusty mop of haircut in an uneven bowl around my head, and the collection of constellations chiseled, Seurat-style, across both cheeks.
Once, as I recall, one of my father's friends explained that he would enjoy nothing more than to take a permanent marker and connect them. Years later, I think back on this as being an extremely weird and convincingly creepy sentiment to have shared out loud–kind of like making a request to tickle an amputee's stump in the middle of a room of people at a party.
It had become my understanding, deciphered from the half-muffled shouting hissed like a slow leak through the same inexpensive wooden framed windows that shook in a modest breeze, that we would be moving. Most of us, anyway. Four out of the five.
Statistics can speak to the highest probability of who was most likely the one being left behind, but at the risk of coming off as attempting to sound too clever or interpreted as hackneyed, I'll confess that beyond a momentary lapse in sound judgement during my teenage years, I bore no palpable malice toward either my mother for moving us away or my father for remaining stationary the way he did.
But in that very moment I am consumed by something else entirely that I can only compare to an anticipation of loss, if it makes any sense. It's not like I understood it at the time, having only grieved the passing of several short-lived goldfish and maybe a few distant relatives I didn't really know at all. These were, after all, the years before the metaphorical balloon burst.
The socks on my feet feel suddenly wet and I'm tempted to inspect the bottom of one to confirm if I've stepped in anything worth noting: oil or piss or plain old hose water from the ever-leaking spigot no one bother to address since we were only renting (and it seemed more economical to let the water run instead of the landlord pinning the blame on me or one of my siblings).
I keep my feet planted and can smell the exhaust of cars idling at the 7-11 adjacent to us, separated only by a sorry looking plank fence that leaned precariously into the small rectangular parking lot as if, in considerations of the two properties, its loyalties lie with the commercial rather than the residential.
The sun is still shining. That is an absolute certain, non-negotiable memory, and I'll debate anyone who says differently.
There's a small, narrow clearing between the house and the steel double doors that lead down to the cellar, and in that space there's a small pile of old bricks, each in varying degrees of weather worn deterioration.
I select what seems to me the sturdiest of the bunch and hold it between two hands, sensing the weight of it with splayed out fingers against the smoothed out, almost melted feeling surface of the object.
Years later, my mother tells me that for a moment after it crashes through the window and lands among the broken glass scattered across the bedroom floor, neither she nor my father know what it is, and so they both stand there staring at the scene until they notice my face framed solemnly in the jagged tooth void, my hands handing free and open.
Now I am soon to be divorced myself, and I live in a studio apartment on the 24th floor of a highly ostentatious building in Jersey City that I can just barely afford.
Although I'd like to imagine the price tag is worth it, the truth is I relish the perception of being far better off than either of my parents were at my age, though part of it is probably that I don't have any children of my own and was afforded the chance to graduate college. And though my career path has never actually benefited from the nuts and bolts of my degree in the humanities (if the humanities can even qualify as being concrete enough to possess nuts and bolts) there is a perception that I am pensive, intelligent, and overall well-adjusted.
The fact that I am $60k in debt with a useless degree, living someplace that will outgrow my budget in four months' time, and currently in the midst of navigating what might prove a relatively messy divorce, is irrelevant to nearly everyone except myself.
The best things about my tiny, postage-stamp sized living space are the windows, especially looking out toward Battery Park as a storm rolls across the Hudson in one unending sheet of grey deluge.
The rain pummels the glass more readily at this elevation, turning the near invisible barrier between the in and out into a bespeckled mirror where I can observe the abdomen of my prone figure, its respiration reflected upon the outside world as a ghostly, ill-defined stencil, the cloud crowded horizon heaving almost pompously in the background.
In my previous apartment, the one I shared with my soon to be ex-wife, it seemed we were always getting caught up with whatever was happening on ground level three floors below us.
You see, the third floor is the perfect distance from the street, allowing you to eavesdrop on conversations while still affording one the anonymity necessary to participate in domestic espionage because, as we soon realized, people almost never look up.
Initially, it started off as innocently humdrum as one might expect: a young couple stumbling off an evening from the bars down on Murray Avenue and bickering in little pockets of slurred irritation as Joon and I might have done had we not committed ourselves to so many marriage-related therapies that the idea of drinking or arguing became immediately repulsive.
"Joon," I said. "Come look," I whispered, peering cautiously through a slit between two shade slats.
I moved aside so she could see, splitting still the slats with two fingers in the shape of a V, though a section or two lower, the streetlights streaked across her eyes as if she had just strapped on a glowing pair of goggles.
I could still hear them outside even thought I couldn't see them anymore. Watching her watch them, I wished badly to participate, but the other windows were in the living room, and they would be out of eyesight by then.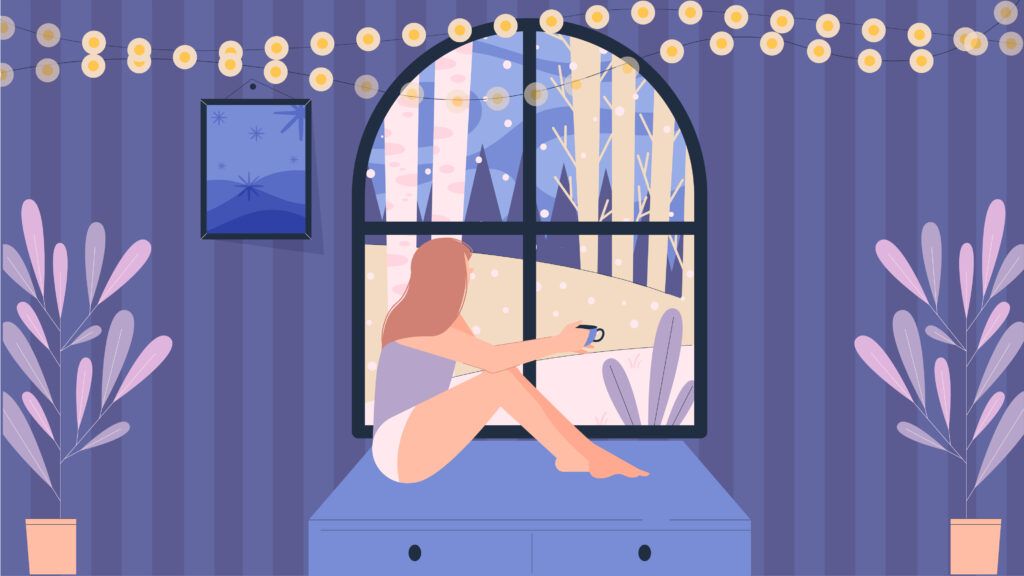 I heard suddenly a yelp from outside and Joon snorted into the back of her wrist, the way she did when she wished to stifle a laugh but came out with an even more embarrassing sound instead.
"What happened," I demanded incredulously. "What did I miss?"
"The guy just fell."
"Is he hurt," I asked. "Is he dead?"
"I think just drunk," she said. "He's already up and they're on their way."
I leaned disappointedly over her shoulder and with my free hand, parted another slit in the shade to confirm for myself.
Nothing besides cars passing in the neon night.
"Michael!" She gave a half-gasped pronunciation of the name, the way she did only if something pretty good or something pretty bad happened.
"Oh," I said. "That."
"Yes," she said, whisking around and drawing both arms crisscross around my neck. "This."
We kissed, and she led me by two or three fingers into the bedroom where we would turn off the lights and get under the sheets, though all I really wanted to do is stand in our galley kitchen by the window, hoping the couple dropped a credit card or car keys and have to return the way they came.
This is of course outrageously un-husbandly of me and even, I worried, a little creepily voyeuristic, so I took the green light I had been given and ran with it, ignoring the fear of eight whole months of marital therapies flushed down the drain.
When we finished, I lay in bed and my mind wandered to electroshock treatments.
Where things really became interesting was with one of our building neighbor's college aged daughter, who wasn't college bound.
It's a month or two later and I've forsaken all notions of electroshock, but I no longer stand too close to open windows if I can help it.
Joon and I have just started a new session where attempt to match your partner's heart rate through intently occupying the same space while hooked up to monitors and clasping one another's wrists.
This makes it impossible to hide my hereditarily high blood pressure, and Joon actually makes herself ill trying to keep pace with my frantically unmedicated organ. There are tears and dry heaves on a continual basis. "The buck stops here," I'm told, as if I've been caught and pinned, wriggling to the wall. Bid adieu to salami sandwiches forever.
It's late now, and I skirt past the living room windows on my way into the kitchen for a glass of water.
The thrill of Thursday night Is not lost on me and bets out Friday in its anticipation of the weekend. There's chase to be had at that hour, and the eight hours of work the following day does not seem a bit as dreary as it does the rest of the week.
The cool water drains the spiky parched feeling down my throat in a wash of relief that sets me so straight I'm obliged to at least allow my eyes to wander outside the apartment, even if only for a second or two.
I notice our neighbors' daughter Natalie slumped up with her back against a car door while inside said car, somebody scavenges through the glove box illuminated by the dim interior light.
The individual emerges from the passenger door, and I can see it's another girl, most likely Natalie's decidedly non-college bound age.
The one girl speaks at Natalie and Natalie appears disheveled, and almost crumpled up against the car disinterestedly or perhaps out of it.
I crack the window and invite late October tumbling into our lives, along with whatever had lain dormant from the year before—smoke, spirits, etc.
Words are exchanged as harsh little coins, and at first, I believe the girls are caught in an embrace, but then I see Natalie's small hands wrapped around the other girl's smaller throat.
Everything races and my mouth goes dry. "Joon," I say, my voice nearly hoarse. "Look."
Joon trots over, her face still flushed from treatment and peers own upon the scene, unfolding. "Isn't that Beth and Drew's kid?" she asks. "Don't you think we should call the cops?"
That secret feeling creeps up from inside me as I look from over shoulder. I wonder what would happen if one of the girls were to look up and see both our faces aglow in the streetlight.
I work Joon's flannel pajama pants down her backside with alternating pinching tugs on either side.
"What are you doing?" she asks breathlessly, but I'm nearly positive it's a result of her blood pressure readjusting in preparation for readjusting yet again.
The other girl shoves Natalie off her easily and shouts something indiscernible as she walks around to the other side and gets into the car.
The dear old grandmother sky, like a dark stretch of elbow skin, covers the moon from view and shutters and otherwise unearthly low from the lamplit streets.
Just below, trash mixes with other trash and spins, scattering across the unbroken yellow line of the avenue and catches in the cramped space between the trunk of a tree and a parked car.
In my hyper-vigilant state, I keep watch for gnarled ears of fallen leaves and trace the path of one from branch all the way to the sole of Natalie's sneaker as she sits on the curb besides the fire hydrant, arms wrapped around her abdomen in a sad imitation of a hug.
Everything about the scene feels perfect, and even if I could reach out with one hand and touch it, I'd refrain.
Nobody calls the cops. We finish up, attend to ourselves at the toilet and flop into bed, entertaining separate thoughts or perhaps not really thinking about anything at all.
The dark room is fragmented here and there into largely exaggerated geometric shapes that almost pollute the usually eggshell-colored walls as an electric buzz from somewhere close carves itself unceremoniously into the ridges of my brain as I attempt to shut the machine down.
The pang of someone unfulfilled blooms in my stomach like a fluttering moth, and something unrelated to nerves or blood pressure grips at the spot I've always imagined my heart would be, but it now feels as if the cavity houses a pair of throbbing testicles instead.
I shit you not.
At first, I turn to Joon but the slow, even breaths suggesting the gentle cadence of R.E.M. sleep escape her, so I abscond to the bathroom, the murky shapes choregraphed in a sort of transient tattoo across my bare skin as I cross the room.
I found the prospect of peering anonymously into someone else's life electrifyingly gratifying—so much so that it began to inexplicably affect most matters of my day-to-day life.
Things get pretty bad. There are incidents.
Doctor David A. Jewel strongly recommends, no—implores that we increase our therapies, even if it means utilizing some of the emergency and, understandably, out-of-network services he provides. But my satellite has drifted much too far a distance to ever bring it back within orbit, though Dr. Jewel suggests we attempt dissecting a cat together as a last resort.
"It worked for the Clintons," he says.
I turn instead to amateur pornography. A troubling pattern of alcoholic indulgence again rears its ugly head as I run through catalogues of clips in search of a comparable satisfaction to window watching.
It helps when the female ignores the camera. It's best when she doesn't even know it's there. Whenever someone locks eyes with the lens or else addresses the filming aspect of the situation, I make a mental flag to never click the video again.
There are many, many mental flags.
Joon for the most part doesn't mention anything. She views the lapse in therapy as what is perhaps a necessary step in the longer journey ahead toward complete marital bliss, but there's zero hint she has any clue about the alcohol or the pornography. I stick to vodka and breath mints. I perform up to the usual level of passion and effort expected during bedroom interactions.
This all changes, however, after stumbling upon a single video in which I become spectator to what I'm convinced is Joon engaged in oral sex with someone I cannot recognize.
There's no way to know for certain, but it's all there: the dull brunette hair, the dimple to the right side of her nose she speaks always of one day removing. I recognize, to my horror, familiar rhythm, and technique.
I study the video for days, pausing to analyze what I can discern from the grainy film. I strive to establish year and location. Is itsomething that could have occurred while we were together? Doubtful, but even that eventually means nothing.
I attempt to place the mysterious member, but that's about as absurd as it sounds. It's a regular looking Caucasian homegrown, with perhaps a 20-degree curve to the right. Over 30, and its considered advisable to seek medical intervention.
I estimate that it is either equal or shorter than my own, praying like all hell that I'm accurately assessing length.
Recognizing that this type of behavior is wholly hypocritically and utterly shameful, I still feel an unrelenting need to know. But it's not like as if I can bring it up casually over breakfast one morning.
Instead, I continuously review the video and fester over it. I oscillate from experiencing relief that it cannot possibly be Joon in the video to a pummeling despair that I will be stuck with this until the day I resolve to get divorced and put this part of my life behind me without explanation.
My consumption of alcohol increases, and I am viewing so much pornography that I begin to see Joon in even more videos. Any hint of similarity is enough to funnel down the rabbit hole: an article of clothing, a choice phrase used in the heat of the moment.
There is no sense or sanity to any of it. The woman on screen pants like a hunted gazelle. Everything revolves in one unbroken chain of shame and disgust until the day Joon finds out.
The confrontation deflates immediately into a pile of flaccid nonsense as she stares through me, incredulous and confused.
For a moment, I regret absolutely everything up to that point, but then I boldly assert, "They're all you after all, aren't they?"
There isn't any hurling of dishware or a heartbroken tennis match of suburban tragedy like one might read in a Cheever story.
She tells me to get out. I pack whatever I can of my things, and I leave. Nobody glances back wistfully or yelps out a regretful word as the other person slumps away.
I have made my bed and now I am simply sleeping in it. My life in Jersey City begins as I sift through the long, plodding non-event that is divorce.
Often, I look back on what I expected to be the happiest days of my life with little more than a vague understanding of it all, like some shadowy fraud lurking always in the background, slack-jawed and incompetent.
Across the river, the buds of Battery Park are in bloom, and I stand at the wide expanse of my wall to wall looking glass, marveling at my distance from the Earth and really the general distance, although self-imposed, from anything meaningful.
Life has slithered by on a single husky breath, and I've maybe five months left of white gloved doormen and this panoramic elevation I've grown so accustomed to as to absolutely rely on it as a necessary element of day-to-day life.
What I'll do then, I don't have the slightest clue. A return to a world of menacing delight in the unrest of others, or else reconcile with Joon? Neither seems a death worth waiting for.
It's in the way these deaths intersect with life, like we're all just in it to greet people who will one day be too advanced in the webby stupefaction of age to recall our names, and in that small way we die anyway.
My mother would sometimes lend reductive platitudes toward difficult situations s they would rise—things like 'It's always darkest before the sun rises,' or really anything else you wouldn't be too surprised to find printed on that slip of paper that comes out of a fortune cookie.
I can't speak to the truth of all that, but it has been somewhat of a long, arduous night with little sleep to come as dawn approached.
And so, I stand and stretch my arms as one might do before a long-awaited embrace, and I watch as the morning washes across the city and in the avenues between buildings like a pat of butter melting through outstretched fingers, smooth and runny.
And in this moment, I imagine nothing else. No evil nor ill-will await me.