I didn't realise Arkady was drunk when Zina and I first arrived at Dog Beach. We had come early; it was still mid-afternoon, on one of those oven-hot August Odessa days. I'd carried two heavy bags, including one full of cold bottled beer, down several flights of concrete steps, the shrilling of crickets from the scrubby trees along the path making it even hotter. I was sweating and wanted a swim. After quickly shaking hands with Arkady and greeting his wife Lena, I stripped to my shorts and jogged down to the water's edge, leaving Zina to talk to our hosts. Even the crumbly grey sand underfoot was too hot.
The beach wasn't crowded; a hundred or so people arranged in family clusters along its length. Some had planted coloured umbrellas in the sand. Others, already very brown, lay on towels and let the sun beat down on them. There were girls in startlingly brief fluorescent swimsuits, pot-bellied middle-aged men, children digging with plastic spades. A few bathers stood in the pale green water near the shore, where sunlight glittered on ripples formed by the low swell. I waded in until I was chest-deep, then struck out toward the line of yellow plastic buoys marking the end of the shallows.
After a couple of minutes, I stopped and floated on my back, looking up at the cloudless blue sky. White gulls passed overhead, some high up, cruising on rigid wings, others flapping swiftly just above the water, looking for fish. It was a perfect afternoon in Odessa, a perfect afternoon anywhere. I could have happily stayed out there for another half hour, but it would have been too rude; this beach picnic was to celebrate Lena's birthday, and Zina and I had been specifically invited.
Reluctantly, I turned back to shore, swimming fast for the exercise. Soon I was striding through shallow water, then running along the beach, then standing next to Zina toweling my hair. 'Don't drip on my new bag,' she told me.
I had met Arkady and Lena a few years ago, when we bought one of Arkady's paintings – he still occasionally complained, only half-jokingly, that he sold it to us too cheaply – but Zina had known them a long time; she'd been at school with Lena, and, long before we met, had been a bridesmaid at their wedding.
Arkady was thin, hollow-chested and balding, with a wispy beard and glasses, like a near-sighted Dostoyevsky. He somehow managed to speak both hurriedly and hesitantly at once, making him difficult to follow, especially as Russian was not my native language. But he was widely read and knew a good deal about art and architecture, and I always enjoyed talking with him.
Lena was a buxom woman in her forties with a mass of wavy brown hair and large dark eyes. These eyes of hers had obviously attracted compliments in her youth, because she still took care to roll them expressively at every opportunity. She wore brightly coloured clothes and an overabundance of cheap enamelled rings. She was not interested in books or art at all, but she doted on a small yappy dog that got annoyingly underfoot whenever you visited their flat. Arkady and Lena's apparent unsuitability just went to prove that it's impossible to know what passes between a couple.
They had chosen a spot right at the end of the beach, where you could light a fire to cook, and Lena had spread a plaid rug out on the sand next to the towels. She had brought a big pot of marinated pork, to cook as shashlik over coals. Laid out on the rug were plates of tomatoes, cucumbers, and smoked fish. There were two or three long pointed loaves of bread, blocks of cheese wrapped in muslin, home-made sausage, and a jar of tkemali sauce. One plastic bowl held dark purple plums; another, apples. A cloth half-covered several bottles; next to them stood a little tower of plastic cups. I could see bags of sweets and a big white cardboard box which contained, I suspected, an over-rich iced cake.
Clearly Lena had gone to trouble, and spent money, on this birthday spread. That was very like her; she loved to impress, and was always anxious to know if she had succeeded. She could never help asking questions like 'what do you think of the soup I made,' 'what do you think of my new dress,' and even, 'do I look beautiful today?' Childish, vain, but you couldn't really dislike her for it; she was a sunny, good-hearted woman.
'This is a mountain of food. How many people are coming?' I asked Zina in an undertone. 'I'm not sure; Sergei and Natasha, Volodya and Marina, for certain; probably a few others. We have to stay until everyone has arrived, at least.' I assured her I hadn't entirely forgotten the basic principles of good manners, then wrapped our bottles of beer in a wet towel and put them in the shade. At last, the sun was beginning to dip behind the tall trees that lined the beach.
I was dry enough by then to pull on my clothes and go over to help Arkady with the cooking. He was standing shirtless by the fire, black hair matted on his concave chest, his thick glasses smeary. He waved a hand at me distractedly as I approached. The basin of meat sat on a flat rock, against which a collection of skewers, shaped like antique swords and looking disturbingly sharp, had been propped.
I suppose I should have realised Arkady was drunk when I saw the fire; a rough log, still not properly alight, lay across the circle of blackened stones, with just some twigs and a few pieces of split board in flickering flame beneath it. There were no coals yet, and I couldn't see how there were going to be any. I was kneeling, trying to push things into better shape, when Arkady dragged a big fallen branch, its leaves still green, across the fire. I protested, but he pushed it down into the flames. 'Just wait a bit, just wait a bit,' he mumbled. Soon we were both enveloped in rank smoke. I backed away, my eyes stinging, and decided to leave him to it. He was the host, after all, and it was his wife's birthday. I collected a beer from our cache, and sat on the sand, looking out to sea. The last long rays of the setting sun reached over my head, out toward the horizon.
I had nearly finished my beer, absorbed in watching the sky turn lavender, smelling the lovely combination of ozone and salt that emanates from the Black Sea at evening, when I heard a wild howl behind me. I looked around, alarmed, to see Arkady dancing around the fire, holding his left hand above his head. Blood was running down his forearm. He must have sliced his hand open on one of the skewers; I winced to think of it.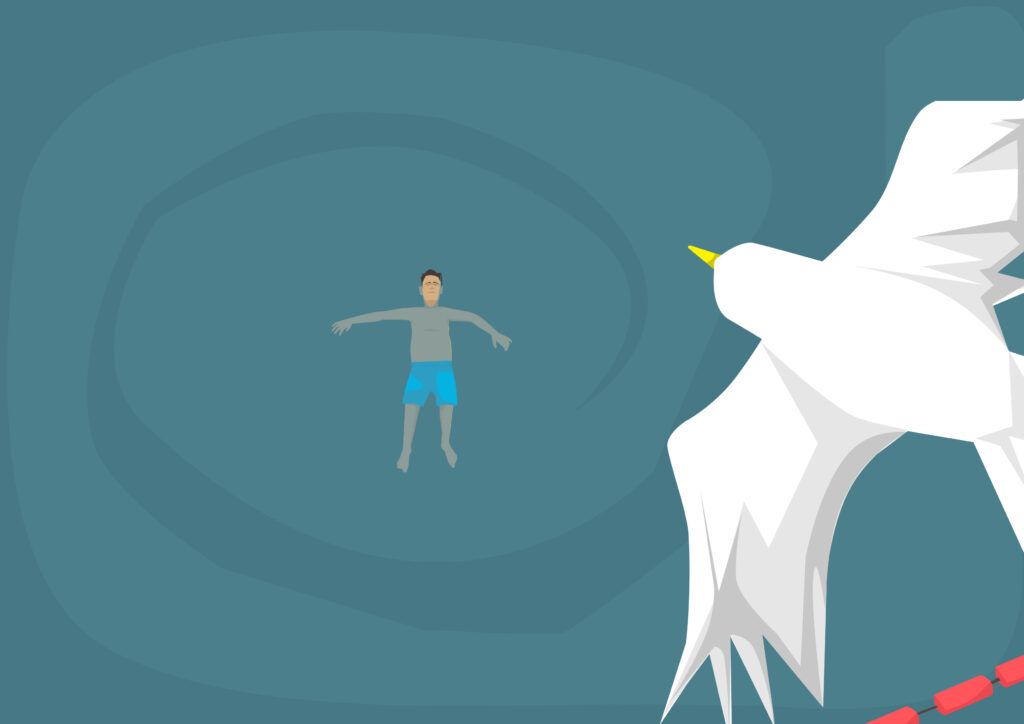 While I was still getting to my feet he ran down to the waves and plunged his arm into the salt water, bellowing like an animal in pain. Lena and Zina were already heading toward him, so I hurried over to check the barbeque.
The fire was blazing fiercely, after all. Arkady had thrust several skewers loaded heavily with meat, onions and green peppers right into the middle of it. They were all well aflame, already black and burning vigorously. I dragged them out as quickly as I could, at the cost of scorching my fingertips, but the carefully-prepared shashlik was ruined, carbonised, inedible. What a waste, I thought, and Lena will surely be upset after all her work and expense. What was Arkady thinking? To burn the food wantonly like that was insane, ridiculous. Only then, I have to admit, did it occur to me that he must be drunk. In my defence, I'd never known him to drink before.
Darkness was beginning to creep out from the low hills around the beach, and the orange sparks flitting up from the fire stood out more and more brightly against the sky. I was still looking down at the smoking black blobs impaled on the tarnished steel skewers when Arkady returned to the fire, a bloodstained handkerchief tied round his hand, holding a bottle of Armenian cognac, seven years old, quite decent stuff.
Arkady had a trick of opening beer bottles with a plastic cigarette lighter. That was all very well, but now, he held the cognac bottle out in front of him and, drawing his arm back, hacked at it with the meat knife, like a hussar opening champagne with his sabre. The top flew into the air. Arkady cheered, and waved the bottle, its glass neck cut off a few centimetres short, above his head before carrying it in triumph over to the rug where Zina and Lena were lying.
'What have you done?' shrieked Lena, staring up at Arkady waving the bottle of cognac around. 'Opened it, opened it,' grinned Arkady, and staggered heavily. 'Opened it? You've ruined it! Nobody can drink it now! Idiot! Idiot!' yelled Lena, scrambling heavily to her knees.
Arkady stood staring down at her. I was right beside him; he drew himself up, and I distinctly saw his face twitch and convulse. It was an extraordinary sight; he appeared almost to be changing shape. He threw the decapitated bottle of cognac down beside him, where its contents chugged out into the sand. Lena wailed, raising her hands like a mourner at a Balkan funeral. Arkady opened his mouth, and worked his jaw several times. Then he spoke, in a voice I hadn't heard from him before, a harsh, grating tenor. 'You call me an idiot?' he snarled down at Lena. 'You're the idiot! You! You've ruined my life, you….You don't know how I hate you! For twenty years I've hated you! Every day I wish you were dead. And every day, when I wake up and realise you're not dead, I wish I was.'
I could only think of getting Arkady away from there, so I took him by the shoulder. 'Come on, man, let's go for a walk,' I started to say, but with unexpected strength he threw my hand off, without looking at me. He stood staring fixedly at Lena. Even a foot away from him I could feel he was quivering with rage, as if he were made of coiled wire. 'Don't show your face to me again, you witch! Never!' he shouted, stabbing his finger at her, then turned on his heel and walked away toward the steps, now barely visible in the gathering gloom. I started after him, but Zina's voice sounded close by my ear. 'Let him go,' she hissed urgently. I heard Lena sobbing behind us.
I didn't like to let a man walk off drunk into the dark, but Zina knew these people much better than I did, so I reluctantly held back. I don't know what would have happened next, except at that moment Sergei and his wife Natasha appeared out of the dusk. Sergei was older than all of us, an accomplished pianist, and generally accepted in our circle as a wise man. Lena fell on Natasha's shoulder, sobbing broken words. Sergei came over to us. 'What happened?' he asked. 'Arkady was drunk, and, well, you know…,' said Zina. 'Aha,' said Sergei. That was all. It seemed to be a script from a play I didn't know. What was clear was that the birthday party was over before it had really begun.
I went over to the fire. It had died down, but I poured a few double-handfuls of sand on it just in case. There was nothing left to cook. The skewers threaded with black cinders looked unutterably sad lying there on the ground, amongst cigarette butts and bottle caps. I found the one Arkady had cut himself with, still with a couple of cubes of raw meat impaled on it, half buried in the dirty sand. I carried them all over to where Zina and the others were standing. Somebody had fixed a torch on some sort of stand, and the area round the rugs and towels was partially lit and partially in shadow, like a bad Rembrandt copy, it struck me. Natasha was talking quietly and soothingly to Lena, who had stopped sobbing and was now only snuffling. 'You two go, if you want. We'll look after Lena,' Sergei said to me.
I couldn't think of anything to do but leave, and Zina nodded yes. I collected our belongings, leaving the beer for the others, and we climbed up the concrete stairs, now lit by white arc lights, sand crunching under our shoes. The air was overheated and still, and even without the beer, it seemed a lot harder work than walking down. When we finally reached the main road, I was puffed, although I tried to hide that from Zina.
We waited at the tram stop, its black metal frame outlined against a Prussian blue night sky. I still felt shaken by the emotional violence of what we'd witnessed. How long had Arkady been holding all that inside him? It was obviously a terrible moment in our friends' lives, damage that couldn't be undone, a tragedy for them.
'It's pretty shocking to watch a marriage be destroyed like that,' I said to Zina.
She looked at me sideways, eyebrows raised slightly. 'Destroyed? Oh, no, it's not destroyed. That is just what Arkady does when he is drunk. I've heard him say exactly those things to Lena before. Tomorrow morning, he will be on his knees to her, calling her sweet names and begging forgiveness, saying he can't live without her. And she will forgive him, and the next time we see them there will be no sign that this happened. But this is why he generally doesn't drink. When he does, he is like, what do you say, Hekyll and Hyde?'
The way Zina said 'Hekyll and Hyde' was so ravishing I couldn't bear to correct her. A tram came toward us, a red-lit number 5 shining out of its dark face. We got on and sat, crammed together, in one of the pairs of small yellow seats.
It was hard to conceive the kind of outburst I'd witnessed being part of a married couple's life together. Arkady and Lena had obviously made their own arrangement, which outsiders couldn't understand and didn't need to understand. Nevertheless I felt very grateful I was married to Zina, who remained serene and calm no matter what we did, how much we drank, what circumstances confronted us. As the tram rumbled along Frantsuzky Boulevard, I took her warm, smooth hand in mine.
In twenty minutes we were at our stop. We climbed down the worn metal steps of the tram and set off to walk home. It was a bit cooler now, but still windless. The warm air smelt of camomile flowers. The moon had just come up, and, white and oval above the rooftops, watched us all the way to our front door.