It was difficult to believe that the woman sitting across from me was a recovering alcoholic.
She did not look the part.
"The first thing that I will say to you before this interview," she explained, "is that if you are looking for a sob story or a tragic childhood that pulled me to be an alcoholic, you will be disappointed."
Before the interview, I wondered about Beth's childhood. I wondered about her upbringing, her family, social, economic, environmental factors, and other causes that research from Alcohol Rehab Guide, National Longitudinal Alcohol Epidemiologic Survey, and other publications claimed as factors of alcohol abuse, as well as the early onset of drinking. I wondered about these factors especially because according to cited published research, family is one of the leading causes of addiction.
"I lived a good life during my childhood," Beth emphasised, "I had loving parents, siblings, had a good private education, and loved ones all around. So, if you're going to ask me if I had a shit childhood that led me here, no. I was happy, or as happy as I thought I could be."
Beth stood up and I shifted in my seat and gave her a small smile before she said, "Anyway, hi, I'm Beth and I'm an Alcoholic. Let's start."
Alcoholism has been labelled as a chronic disease for more than two hundred years now. Debates on whether alcohol abuse is a chronic disease or vice have been going on for centuries among health professionals, researchers and those with vested interests. The argument that addictions like alcoholism are chronic diseases comes from the notion that repeated and destructive episodes of drunkenness (an act of alcoholism) are a disease more than a vice.
Alcoholism is a chronic, primary, progressive and relapsing disease, and the solution to such a disease is long-term recovery management. This is because, with most treatment methods, the relapse rate is very high.
While it goes without saying that each addiction story is unique, harmful, and almost-always devestating, there are a few commonalities. One such common factor is the extremely young age of when the people I spoke to started drinking.
Beth started drinking at 13 and Ridondor, a 36-year-old man had his first sip at 12.
"All my class 7 and class 8 friends were already sneaking out, buying, and drinking alcohol at the time. It looked so fun so I wanted in on the fun too. Just boys having fun you know?" Ridondor said.
Beth admits to being the bad influence, the one who played a key role in the initation of heavy drinking habits among her friends. Ridondor, on the other hand, claims that had it not been for the influnce of others, he wouldn't have started drinking at so young an age.
"My friends would come back the next day, laughing about fun stories that transpired the day before, and reminiscing on the fun they had months ago. I felt left out. It was not peer pressure, but it looked so fun at the time." Ridondor sighed, "well, little did I know."
In relation to his social life, Ridondor agreed that even at that young age, he experienced a great sense of FOMO (fear of missing out) which is a factor that remains inconclusive when it comes to the relation between binge drinking and FOMO. In a research study conducted in 2021 by DAR (Drug and Alcohol Review), on whether there was a relation between adolescent drinking and the fear of missing out, the results showed that adolescents with high FOMO have a greater risk of binge drinking.
"You have to admit," Ridondor insisted, "It's not a shocking story to hear in Shillong. That youths, teens, and adults have been drinking alcohol as early as their school days. Ask anyone when did they have their first drink and if they state a young age, I'm sure you won't be shocked. It's normal here in Shillong, and it's so normal that even wine stores knowingly sell to minors. We even bought booze a lot of times in our school uniforms."
The aetiology of chronic diseases emanates or intensifies from its interplay with miscellaneous factors; principally from the potency of the substance, and the physical and biological development of the consumer. And fractionally from the physical, social, cultural, political and economic environment that the individual-substance relationship is surrounded by.
FOMO also plays a part in the social factor as it incorporates comparing one's experiences to another, as well as a comparison to the experience one could have had. This feeling of missing out does arrive after chronicles of experiences have been heard by an individual and not through mere imagination.
Consequently, with Ridondor's credential knowledge that his friends, as well as other peers in his area were freely consuming alcohol and raving about stories of the after-effects of the same, there is little doubt that the social factors of the area as well as his own consciousness of FOMO played a small role in the start of his alcoholic journey.
Youths indulging in alcohol is a serious social and public health problem. The truth is that drinking is a convention familiar to youths.
When Beth had her first drink with her "cool aunt", her class 8 classmates were impressed with the story she narrated the next Monday at school.
"I did not get that many opportunities to drink, but my family was known as the "cool family" of the area," Beth said, "During family gatherings and parties, I was allowed a drink or two in front of them, but I'd sneak drinks back to my room and enjoy them afterwards. Either I did not get drunk enough or the alcohol did not hamper my senses much, and that's how it all started."
"After that, I remembered my male relatives, old and young would drink casually at any social or family event." Beth reminisced with a sigh, "And 1-2 years later, maybe, I was included in there as well. My friends would actually praise me for having a "cool family", but at the beginning of my recovery journey, I blamed them for being too cool about my drinking at a young age. Of course, I know it's not their fault, it's all on me. But I still think, would I be here if they were stricter about it?"
Chronic diseases like alcoholism, have long been called "diseases of lifestyle", owing to social and economic factors related to daily diet, stress, drug use, exposure to a noxious environment, etc.
Beth did live a lifestyle of drinking, owing to her immediate environment of alcohol being treated as a norm and not a vice. She would get excited about family gatherings and would always have access to alcohol whenever she had an inclination to drink.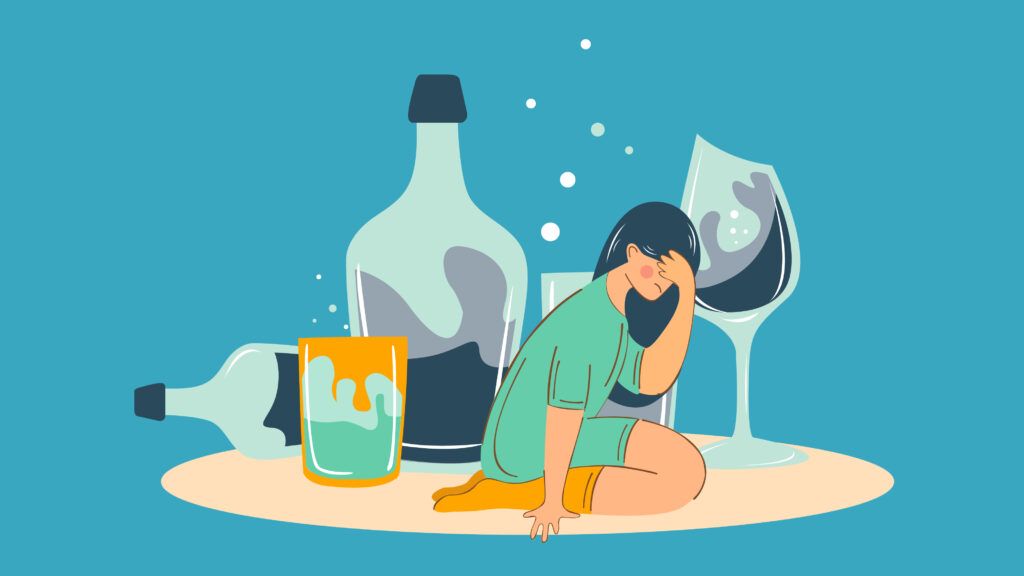 Bah Nongbri, however, would not be able to relate to Beth's situation.
"Every moment, every chance I got to drink, I did." 62-year-old Bah Nongbri admitted, "My family was not okay with me drinking, clearly, I was not a good drunk; I knew it, they knew it, everyone knew it. So, I would hide my alcohol, drink it out of my closet, hide it in my water bottle on the way to work and even at work, and hide the smell with cigarettes. I would pick my kids up from school, stop outside a bar, tell them I'm going to the shop for five minutes and downed a drink or two in that time."
"I did not consume alcohol, alcohol consumed me." Bah Nongbri said.
The effects of drinking cause an individual's brain to release the happy chemicals of the brain, such as dopamine and endorphins. Different people's brains, however, do react differently to alcohol. Some may feel happy, some may feel sad, and some may rage.
"I was a bad drunk." Bah Nongbri said taking a deep breath before continuing, "I was a horrible drunk actually. My family was not safe around me. My wife gave me everything, and all I gave her was pain. You might be thinking why didn't you stop, and I could not at the time. I was dependent on alcohol."
As each drink is consumed, the hope for the release of those happy chemicals coupled with the effect drinking has on serotonin levels leads to the chase of these sensations happening. This in turn leads to frequent drinking and alcohol dependency in the long run.
"When did you know it was time to stop?"
This is the repetitive question I had asked every interviewee.
"I'm a woman. I needed to stop."
Beth enjoyed her college life but was soon faced with the difficulty of being a woman in the HR department of a well-respected company.
"During office holiday parties and celebrations, I would outdrink my colleagues as I always have been able to outdrink others during my past years," Beth said, "But the stress of the job, failed romantic relationships and being away from my hometown made me drink more than I was used to. My standard of a 'social drink' itself was a lot, but drinking to combat stress led me to drink more and more. My tolerance was way up there."
"I had always questioned why my female friends and co-workers drank freely but were reserved when they were with their families," Beth continued, "I judged my friends back home in Shillong the most thinking how is your family not as chill as mine? It was a cycle of judgement. The end of my cycle was when the judgement came back to me full circle. I was judged for drinking as much as I did."
Consumption of alcohol has always seemed unladylike in various societies, be it in mainland Indian societies or the society of our hometown of Shillong. Various societies in and around Shillong have an awareness of the lifestyle of alcohol consumption, but it is seldom talked about openly. Judgemental looks and whispers are passed when a young man or a woman enters a wine store, or orders a drink with their dinner.
Women cower when drinking around others for fear of judgement. There is indeed a double standard in the discernment of alcohol between the genders. A double standard is also present in the internal outlook of women drinking; it seems acceptable for women to have mimosas at brunch cafes and bottomless margaritas during an evening with the girls, but women socially drinking at a large gathering or consuming alcohol at a club is frowned upon by a minority sector of society.
"As I consumed more alcohol to cope with the stress, my tolerance increased and again, a cycle appeared. I drank more because the amount that I was used to did not help. I became an alcoholic," Beth admitted, "people used to think I would never get drunk, but slowly I did, and I assumed that the history of my relationship with alcohol would be a cushion for drunkenness. It did not. I was a sloppy drunk and I was shocked by it. In the end, my final cycle appeared; I would cause a scene, apologise the next day, think it won't happen again due to my tolerance and drink till I was drunk again. I was not in control."
Slowly, Beth's outbursts caused her to lose her job, a few friendships and an important relationship she still regrets to this day. After this, joined Alcoholics Anonymous and turned her life around.
"I had a quarter-life crisis."
Eleven years ago, Ridondor turned 25 and experienced a soul-searching epiphany.
"I was unhealthy, mentally and physically," Ridondor stated, "the weeks leading up to my 25th birthday, I was comparing myself to my batchmates. They were all young and having the best time in their lives, and there I was still living as a teenager, it was the only life I knew how to live. I did not have a fall, like many people I have had conversations with. I woke up one day, 25, and decided to change, I had a last shebang for my birthday party and said goodbye to alcohol and that lifestyle. A quarter of my life had gone by and all I remembered was alcohol."
Many believe that alcohol can act as an 'anti-depressant', as the after-effects of its consumption release the happy chemicals of the brain. But in reality, alcohol is a depressant; it causes an individual's brain to work slower than usual, plays on emotions by depleting inhibitions and negatively affects all aspects of an individual, from health risks, and how they feel physically as well to their mood and how they think.
"That part of me died."
Bah Nongbri experienced a heavy fall from alcohol, the thud of it affecting those around him.
"My father would drink every day, every chance he got. Even with our protests, he still did it. It broke our hearts," Bah Nongbri's youngest daughter Fifi said.
"My dad was an alcoholic, simple as that. He was a threat to our family." His eldest son Drew stated.
"It was tough loving my husband all those years." Bah Nongbri's wife of more than thirty years admitted, "God pulled us through, with the help of AA."
The gritty stories Bah Nongbri and his family narrated of his days as a 'bad drunk, mean drunk, an alcoholic' was told to understand his situation, but what he wanted out as a quid pro quo was his recovery story told in his way.
"I made the biggest mistake of my life years ago, I hurt the people I love the most, emotionally, and something I ask for forgiveness every time I pray for, physically. I kept drinking more and more, as much as I could." Bah Nongbri admitted regretfully.
Alcohol is an all-consuming addictive substance when consumed in great quantities. Alcohol tolerance encourages greater alcohol consumption and contributes to alcohol dependency.
"My wife kicked me out of the house and that is when I decided to change my ways," he said, "Family therapy, AA and prayer helped the most. The withdrawal period was the toughest."
Alcoholism is a disease that is constantly progressing, even during recovery. People with other diseases seldom have a choice at recovery-by-self, but alcoholics do. They can be treated and cured. There is a common challenge faced by newly recovering alcoholics; it is not fighting the urge to drink, but rather staying motivated to stay sober. Bah Nongbri's motivation was his family and AA.
"Alcoholics Anonymous saved my life. The constant sharing sessions and knowing I was not going through this alone helped me greatly. They even provided counselling for my family and hearing the stories of other families affected by alcohol gave me hope of righting my wrongs."
Mutual aid and support groups such as AA (Alcoholics Anonymous), NA (Narcotics Anonymous), GA (Gamblers Anonymous), etc, have long been and continue to be of great help to recovering addicts. But, these groups are severely criticised for shifting the dependency experienced by addicts from their substances to a prolonged dependency on the support group, an argument stating that these rehabilitation groups fail to return addicts to their community ties.
"I survived due to these reasons," Bah Nongbri concluded, "family, the AA family and God and I am thankful every day."
There are scores of proven testimonies that support groups like Al-Anon help with the prevention of relapse and long-term treatment of alcoholism, and more individuals have achieved stable and sustainable recovery from addictions.
Beth is now 9-years sober, working in her hometown of Shillong and advocates as a sponsor for women in AA.
Ridondor is 11-years sober, living a healthy and wholesome life, full of awareness and away from what he knows to be addictive.
Bah Nongbri, his wife, and three children continue to be a united family, at the core of which lies forgiveness, honesty and recovery.