The trees around Pandora created a peaceful percussion overhead as raindrops dripped from leaf to leaf. It wasn't really raining anymore; it was an almost unnoticeable drizzle. The air was thick with humidity, and she felt goosebumps forming on her arms despite her black coat's protection. She'd been walking for nearly two hours, so the chill in the air was starting to nip at her skin through the fabric.
With a huff, she reached into her pocket, retrieving the piece of old paper that was tucked inside. She unfolded it and gazed at its contents intently. No matter how many times she checked, the map that was illustrated there did not change. Pandora had the path memorized; taking a moment to look over her map was purely a nervous tick she'd developed during her journey. It was pointless, and she knew it, but she couldn't help it.
Pandora's thumbs brushed over the paper. Its weathered and rough surface was comforting in a way. She stared at it for a moment before shaking her head to snap out of the trance she'd fallen into.
Stop getting distracted, she scolded herself. Folding and returning the map to her pocket, she returned her focus to the path ahead of her. The dirt road she'd been following was steadily becoming less defined. Pandora could see what looked like a dead end. Alright, I'm almost there. That should be the gateway.
With renewed enthusiasm, she picked up her pace. The mud beneath her armored boots squelched as she began to jog. The trees grew taller and more densely packed, the road disappearing entirely. She came to a stop in front of what looked like a rock wall. It was coated in hanging ivy, vines, and lichen, and the overgrown trees casted shadows over the area. To someone without her knowledge, this would be the point where they would turn back; Pandora was wiser.
She reached into the inside of her coat. Within her pocket awaited her slender and bejeweled wand, which she retrieved. Pandora surveyed the plant covered rock face. Taking a deep breath, she drew a circle in the air. The green spell rune formed as she imagined the thick vines parting like curtains. They obeyed, slowly pulling apart to reveal an archway that nature had grown to hide over time.
The witch used her free hand to touch the stone, tracing the eroded lines that indicated where the bricks connected. It was rough under her fingers and made her smile to herself slightly. Pandora walked through to the other side and lowered her wand. The vines and lichen moved back into its place behind her.
Before her stood a mansion in a large circular clearing. It was clearly abandoned, its exterior showing signs of disrepair and age. While protected by the sheer rock walls, it was still exposed to nature's strength. She guessed the reason it still stood after all this time was due to the way it had been built. The gothic mansion wasn't built out of just wood, but wood and stone. Its walls were made up of dark grey bricks that looked a little weathered down, but otherwise stood firmly. There were beautifully carved pillars and balconies. In the places where plants hadn't grown, Pandora could make out patterns and symbols. It held an eerie air about it, but she was unbothered.
She paused to look around the clearing. There were remnants of other structures and worn-down stones on the ground that indicated there had once been a road. Many years ago, there had been a tiny village hidden here. The witch had heard about it from gossiping nobles during one of her parents' awful social gatherings. She honestly despised being the daughter of a king sometimes; it wasn't a big kingdom, more like a city state. Pandora's family were wealthy and ruled it, but she hardly considered herself a princess. The label didn't fit with her personality. The fact that she was here to retrieve a so-called "treasure" from an abandoned mansion like a criminal was plenty of proof of that.
When Pandora had heard the nobles discussing it, she'd gone to their library and began looking for information the very next day. All she had found was a name: Wimborne. It was so old that it had a single page tucked away in an outdated registry of settlements. She had brought it up to her parents, but neither of them were interested in what they had deemed her "newest goose chase". She didn't take it personally; all she cared about was being allowed to go.
If they had known where she'd been to get more information on Wimborne, she was sure they wouldn't permit it anymore. It took a lot of trips to unfriendly towns filled with ruffians and criminals, but Pandora had been looking for treasure and there was no better crowd to ask about treasure than thieves. There were a couple of close calls at some of the taverns she'd visited; she wasn't a well renowned royal, but they could tell by the circlet she wore that she was not poor. In order to get the map with the markings of the path, she had to get the man too drunk to notice her finger creating a tiny circle, a levitation spell rune. He hadn't noticed the way her irises had changed from their natural dark brown into an illuminated silver color as she had casted it. The light did strange things when you were drunk. He hadn't batted an eye as the scroll magically slipped from his belt, too busy laughing and drinking with the rest of the table. Pandora hadn't slept that night, opting to skip town before the thug realized the map was missing. She had refused to stop more than a couple hours at a time until she was several days journey away.
She wasn't a fool. While she hoped the man and the others in the tavern had been too drunk to remember every woman they saw that night, she knew that there was a possibility that they remembered her. Pandora tended to leave an impression.
A small gust of wind blew through the clearing. She shivered a bit, hurrying toward the mansion for some cover. When the heavy door closed behind her, she was plunged into a musty darkness. Pandora coughed and swiftly drew a light rune with her wand; even with the glowing wand it was difficult to see. She blinked as her eyes adjusted, then took in her surroundings.
The inside of the mansion was as still as beautiful as the outside despite its age. Its ruined state was surface level. Everything was draped in cobwebs and the furniture was distressed, but the structural integrity of the house was completely fine. The witch began to search.
She sought a box. The rumors offered little description. It was supposedly very high quality, carved from exotic blackwood, a tree that did not grow on their continent. However, that's all she could find out about what the box potentially looked like. There was also the very possible chance that they were completely wrong. There was the chance that this treasure didn't even exist.
Pandora shook her head as the paranoia began to creep up her spine. She gripped her wand tighter, inhaling deeply as she lifted her chin. This was the wrong time to be questioning things.
The bottom floor of the mansion was large, and she guessed that it took her an hour to go through every room. She pulled drawers out, opened cabinets, looked under furniture, and checked the walls and floors for weak areas that could indicate a hidden compartment. By the time she was finished with it, she was panting and sweating so much that she had to remove her heavy coat. It was chilly inside the mansion, but she felt hot enough to roll her tunic sleeves up too.
Pandora eyed the stairs to the second floor. She approached, putting her hand on the railing, and pausing for a moment to catch her breath. Once she was no longer panting, she started up the stairs. She was confident that they were structurally sound but tested each step regardless. Her boots tapped against the polished wood, still beautiful despite its age. Her hand slid along the banister; it gathered dust into her palm by the time she reached the top. Shrugging, she wiped her hand on her pants and turned to begin her search of the second floor.
Fortunately, it was smaller than the first. Pandora peered down the hallway to her left, seeing doors on either side that undoubtedly led to bedrooms. On her right however was a much shorter hallway that led directly to a set of double doors. She was curious as to what was behind them.
She approached the doors and put her hands on the elegant knocker-style door handles. Taking a quick breath, she pulled them slowly open. They were heavy and their hinges had clearly rusted; she managed it though.
The room inside was without a doubt the largest room of the house. It was a library, furnished with a couple of couches and desks, and its walls lined with bookshelves. Pandora gaped at it all. She absentmindedly began to stroll around the room, gaze moving across the rows of cobweb covered books. They appeared to be undamaged.
She took a couple steps toward the books before she paused, her gut twisting. God, I wish I could go through them all. It's very possible that some of these books don't exist anywhere else, she thought, chewing on the inside of her cheek. But… I can't. I'll stay here for days if I start reading them, and I'm here for a reason.
Pandora sighed and turned toward the desks instead. The rest of the room was easy to search. It was practically empty aside from some dusty pillows on the couches. Before she left the room, she inspected the seams between bookshelves; there were no strange gaps. She stared longingly at the books as she headed towards the door. With a shake of her head, she exited the library and shut the heavy doors behind her.
She made her way towards the bedrooms, stopping in front of the first door. Opening this small door was less difficult than those the led to the library. Inside was an office rather than a bedroom. It was furnished with an elegant desk in the center, and a couple shelves against the walls. Pandora made quick work of searching it. Nothing resembling the box was there.
The next room was a bedroom with simple furniture. It felt plainer than the rest of the house; she assumed it was a guest room. There was no trace of anything in there either.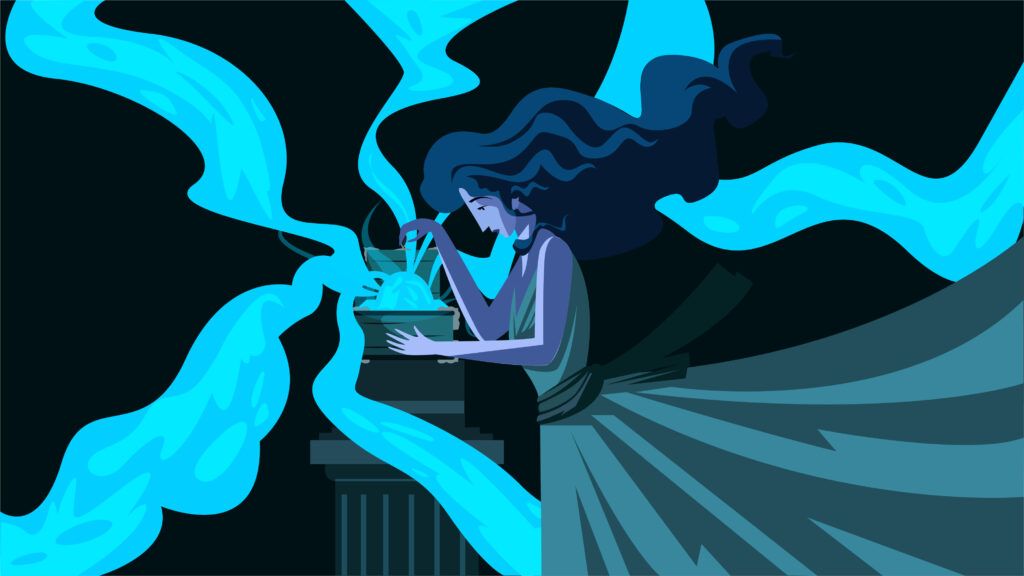 The witch was starting to get tired of searching when she entered the next bedroom. She froze in the doorway, eyes widening as she took in the room. Its furniture in this room was beautiful, elegant, and extravagant. The bed was a canopy bed, its light blue curtains still obviously luxurious underneath the dust. There was a large vanity with a mirror, indicating it had likely been a woman's room. Even the small end tables on either side of the bed were carved with masterful skill. Whoever lived in this room had been wealthy.
Pandora moved into the room, looking down when her boots didn't make a sound against the floor. There was a lavish rug covering most of the floor. She couldn't help the awed feeling as she slowly gazed around. She had to blink a few times to remember why she was there.
There were trinkets on the vanity that caught her eye. Many of them were expected items one would find, a hairbrush, combs, and a jewelry box; she inspected it closely, but found it didn't match the description of what she was looking for. There was an item that she picked up to inspect, wiping the dust off.
It was a small, oval picture frame containing a portrait of an older man and a girl who appeared to be in her early teens. Pandora raised her eyebrows in realization and took another look around the room. This had belonged to someone's daughter. The quality of everything made even more sense. Her eyes landed back on the picture. A strange feeling swirled in her stomach, one that she couldn't give a name to. There was something special about observing this mansion. Everything remained mostly the same as she would have expected it to be back when it was being used. The light brown-haired girl smiling in the picture with her greying father had lived here. These people didn't exist anymore, but they were forever immortalized in this small portrait. Pandora could tell by looking at the baby blue dress she was wearing, and the blue drapes of her bed, what had been her favorite color.
She smiled gently and looked up into the mirror at herself. She took in her features for a moment, from her dark freckles that popped against her tan skin to the unique way her hair grew in two different colors. It parted sideways, the left side of her hair a rich shade of reddish-brown, and the right side a much lighter shade; her hair had always been a defining feature of her appearance. She turned her face as she gazed at herself and wondered what people would think if they looked at a picture of her years from now.
A flicker of light caught her eye in the mirror. She set the picture back down and stared into it, shifting her position to try and recreate the light. In the reflection of the mirror, she saw a glint of metal that shimmered through a tiny keyhole in the drawer of the end table.
Pandora turned and approached it curiously. Crouching down in front of the end table, she pulled the drawer open. She blinked in surprise; she'd expected it to be locked. Inside the drawer sat a box made from the darkest wood she'd ever seen. It was undoubtedly blackwood. It was the shape of small chest, its faces containing elegant carvings of dragons. The seams were framed with silver that created its own shine in the darkness of the room. Beneath it was a book with a fancy spine.
The witch's heart began to race as she picked the box up, turning it in her hands to inspect it. It was truly unique. Its strangest feature was its latch, which was covered in a flat metal plate. Pandora squinted her eyes as she looked at it closely. There was a very thin, almost unnoticeable circle carved into it.
Her eyes widened as she looked back into the drawer. The book sitting inside bore the symbol of magic. The circle on the lock was a rune, but it didn't show which spell it was. She looked between the box and the book, debating for a moment.
Should I try and figure out the lock now? Or should I just take the box and work it out later? Pandora pondered. What if the book has clues to what rune it is? I guess I can take them both with me.
Deciding on this, she pointed her wand at the box and drew a circle spell. The lines of a shrinking rune appeared inside. The box was lined in a white glow for a moment, then shrunk several sizes until it was small enough to fit in her pocket. She did the same with book and tucked them safely away.
Pandora got to her feet and sighed in satisfaction. She did it. She'd found the box. Now all she had to do was get back home and figure out how to open it. She made her way back down the stairs, retrieving her coat from where she'd left it on one of the dusty couches. Shrugging it on, she slipped her wand back into its pocket, and headed out the door.
It was still windy and overcast outside. The witch shook her shoulders as she tried to adjust faster. As she closed the doors behind her, the hairs on her neck began to stand up.
She whipped around, eyes landing on a group of three thugs. She immediately recognized one of them as the man she'd stolen the map from. Swearing under her breath, she shook her head. She should've been paying closer attention; who knew how long they had been tailing her? How did they catch up so fast?
Pandora looked back up, analyzing them. None of them seemed tired at all, and heir hair was all tussled. She inhaled in annoyance, realizing they had to have been riding horses. The large man she'd stolen the map from was holding a double-handed hammer. Next to him was a much lankier man; she spotted a pair of knives at his belt. One his other side was a tall woman with a sword and shield at the ready.
Her heart had begun to pound in her chest, but she forced herself to take a deep breath. Pandora could handle three ruffians.
A distant rumble of thunder echoed as she stepped out of the shadow of the mansion. She carefully crossed her arms over her chest, sliding her fingers into the pocket where her wand was waiting. She smiled sweetly at them. "Can I help you, my friends?" she asked innocently.
"You can cut the act, little lady," the large man growled, grinning with malice. Pandora's fake kindness immediately disintegrated within her mind. Her smile dropped as her jaw clenched. "We both know why we're here, and what we want, so why don't you save yourself the trouble and pain, and just hand over the box. If you do, we won't hurt you! It's that simple."
She hummed thoughtfully, looking at the ground. "Gee, how did you guys even find me?" she asked, pretending to be put out as she kicked the dirt under her boots.
He let out a boisterous laugh. "All we had to do was ask around about a girl with freaky hair, and the trail was pretty easy to follow."
Pandora chuckled lowly, eyes narrowing even as she smiled. "I guess I am pretty hard to forget."
"Alright, that's enough chitchat," the ruffian said, adjusting his grip on his hammer. "Give me the box, or I'll break your ribs."
The air was thick with tension as he looked at her expectantly. She looked between the three of them, trying to mentally prepare herself. This would be easy, simple; all she needed to do was stay calm. Pandora shook her head in response to his request.
He set his jaw and huffed angrily. "Fine, Sonya," he said, tilting his head toward the woman with the sword & shield.
She nodded and began to approach Pandora. Her stride started off slow, but she quickly broke into a run, raising her sword. The witch swiftly drew her wand and changed her stance. She drew a circle rune, her eyes glowing blue to match it as the water symbol formed. A jet of water shot from it. The fighter, Sonya, gasped and dodged.
Pandora pointed her wand at her, ready for another attack. Sonya glanced at her comrades but turned back to her and charged again. She jumped at her, shield in front of her, ready to bash into the witch. Pandora drew another rune with her wand. The shield shrunk in her hand, and she stumbled with the confusion it brought her. With a finger on her free hand, Pandora drew a smaller rune. A vine burst out of the ground and she flicked her finger towards her opponent. It snaked through the air, grabbed ahold of Sonya's ankle, and yanked her to the ground.
As soon as the warrior hit the ground, the thug in charge shouted at the other lackey. "IAN! GET HER!" he ordered.
She turned her head to see the lankier man sprinting towards her. The knives on his belt were suddenly in his hands, then in the air, flying towards her at incredible speed. Pandora gasped, drawing a shield rune as fast as she could. They hit the projected shield clattering to the ground. Ian continued his sprint in her direction, and Sonya had used her sword to cut the vine holding her foot. Thinking fast, the witch drew a rune with her wand and her free hand. Her hand created a levitation spell, and both of the daggers lifted at her command. Pandora began to sweat as her wand's wind spell was cast.
One dagger shot towards Sonya and the other shot towards Ian. The latter was quicker and more agile. He immediately dived to the side, rolling on the ground. Sonya was not so lucky; with no shield and no time to react, the dagger struck her in the shoulder. She let out a pained grunt as she fell to the ground. Ian was undeterred.
Pandora furrowed her brow as he came toward her. She drew several small circles, shooting balls of fire at him. It kept him at a distance, but he dodged all of them effortlessly. Her eyes darted around to look for an idea. Her eyes landed on the puddle of water that remained on the ground from her water spell. A tiny smirk slid onto her face as she drew another rune, reanimating the water. She whipped her wand to send the water toward Ian. He looked prepared to dodge, but the water just sprayed across the ground. He advanced again and Pandora drew an ice rune.
Ian's eyes widened as he lost his footing. The more he tried to regain his balance, the more he struggled. With a smile, the witch used the ice rune to grab some of it and knock the thief onto his back. He groaned and did not get up.
Panting, she looked back at the man she'd stolen from. He was watching, holding his hammer. His posture radiated confidence, but she could see it in his is eyes that he was nervous. Pandora raised her chin to him and made a gesture with her hand to invite him to attack. "If you're done being a coward and letting your lackeys do all the work," she said. She raised her wand toward him. "I'm waiting."
This man, whose name she still didn't know, looked between his two friends and back at her. He looked conflicted for a moment, but as she laughed mockingly, his gaze hardened with certainty. He lowered himself into a fighting position.
Pandora grinned, doing the same. The thug launched himself toward her. She watched his movements closely as he raised his hammer high over his head. Her eyes widened a little as she realized he wasn't going to hit her. Instead, the hammer hit the ground between them, creating a cloud of dust that blocked her vision. She coughed from the particles.
She was ready to draw another wind rune to clear it when a cracking sound made her stall. Out of the dust a boulder a size bigger than her head came hurtling towards her. She was so caught off guard that she didn't have time to draw a rune. Pandora threw herself out of the way.
The rock hit the ground with a rumble, and the witch turned to look at the thug. He was crouched down, his hammer on the ground in one hand as his other drew in the dirt. Peering at it closer, Pandora recognized an incredibly crude earth rune. "You're not the only one who's got magic tricks," he sneered with satisfaction.
She rolled her eyes as she got back to her feet. Brushing off the dirt, she sighed. "I drew better runes when I was six," she replied, unimpressed. "Based on that awful line work, it seems you can't even cast one without physically drawing the entire thing."
To prove her point, she aimed her wand down at the ground in front of her. She drew a circle, and the rune symbol filled itself in. Pandora smirked as she pulled a larger boulder from the earth. The thug looked at her in astonishment. With a snap of her wand, she sent the rock at him. He panicked, grabbing his hammer and jumping to his feet. Her eyes widened as he swung at the boulder as it reached him. It broke to pieces from the strength of the hit. She was a little impressed that he successfully hit it.
His face lit up with confidence and glee. His enthusiasm killed her respect for the move; clearly, he'd never tried it before and got lucky. Pandora sighed and lazily drew an earth rune pointing it behind him. He scowled in confusion when nothing seemed to happen. His body hit the ground with a grunt and a thud, having been hit in the back of the head with a small rock she'd pulled.
She stored her wand and adjusted her clothing. The thug was groaning as she walked past him on the ground. She paused, crouching down to meet his eyes more closely. Smiling smugly at his dizzy expression, she winked. "I told you I'm hard to forget."
Pandora stood back up and took the shrunken box from her pocket. As she walked toward the archway, she tossed it up and down with satisfaction. All that was left to do was figure out how to open the lock, but she decided to do that in the comfort of the library at home. She smiled to herself at the thought of warm tea and the cozy library waiting for her.