It's hard to look yourself in the eyes after a suicide attempt. I tend to look at myself in the mirror from the neck down, avoiding the eyes at all costs, as mirrors are unforgiving. But, so are thoughts, and when it comes to feeling good about myself, it takes time and the right set of circumstances — irrational, sentimental, nostalgic circumstances — to make me truly believe.
I went to grad school in California after thirty long and miserable years in Ohio. They weren't all agonizingly miserable, but a mood disorder throws a wrench in things. Sometimes you need something to blame. Ohio was (and, in a lot of ways, still is) that scape goat.
Well, I got my wish and left Ohio for California in the fall of 2016, living on campus at Mills College, a university that, now merged with a state school from the east coast, is, essentially, no more. When I heard Mills was closing its doors, I felt like I had the wind sucked out of me. It was the place where I ran hundreds of miles and wrote hundreds of pages. A sacred place on hallowed, native ground. Not hallowed enough, apparently, because in January of 2018, I took sixteen 300mg tablets of Lithium Bicarbonate and went to sleep, hoping to never wake up.
Oddly enough, the actual act of committing suicide is as simple as that.
The attempt happened a week after my birthday. I would then spend four days in the psychiatric ward at Alta Bates Medical Center in Berkeley. I was supposed to graduate in May. I did. Honors and a 4.0. I cried during the ceremony. I cried on the plane back to Ohio two days later. My then-girlfriend broke up with me that July. I went spiraling. I slept on a couch on my parent's back patio and ate nothing but avocado toast with hummus and artichokes.
I was jobless. I was penniless.
Not much mattered.
Except running.
When I was diagnosed with Bipolar 1 in 2007, I never took my meds. For the first three years of my diagnosis, I spilled them down the drain or simply threw them in the trash. I was Chad. Not some disorder. Not some crazy person. You've got the wrong human. It isn't me you're looking for, babe. It isn't me. But it was me, still is me on the wrong nights, and always will until there's a magic cure for something they barely know anything about. But none of that matters. What matters is what you believe about yourself.
I used to write essays in my early twenties about an entity called The Monster that would make me do things. It was my Bipolar. I wasn't ready to give it a name, yet. A name would have meant I knew enough about my condition to research it. But, research means work. I don't like work. I like doing what I want to do. I'll work hard at that.
Can anybody blame me?
Probably, yes, but that doesn't matter, either.
I went back and forth between Indiana and Ohio the summer after Mills. I moonlighted at an Italian bistro in a rural town. I washed dishes. I tenderized and portioned pork. I drank like a fish for free. Three weeks in Indiana, two weeks at home in Ohio. A week in Indiana, three days in Ohio. It went on and on like that until I moved to Indiana indefinitely in the summer of 2019.
I was OK with myself in 2019.
A tiny slip of charred paper saved my life.
Grad school was grueling. I read an average of 3.5 books a week, most of them 200 pages or more, along with at least one writing assignment per class. Most classes had side projects you were supposed to do, too. There was no escape. I only held a job half the time I was in school, and even that was too much. I dove into my studies with as much earnest as I could and was able to miraculously finish my thesis in a little over eight weeks.
The night I finished the manuscript and turned a copy of it into my faculty advisor, I performed a ceremony in which I burned the printed edits I made; a symbol, perhaps, of letting go. I went with a classmate to the top of the biggest hill on campus, where a giant outdoor hearth resides. We brought a bucket and a lighter to do the deed, along with two bottles of water. Page after page, the fire raged and the paper embers climbed high into the very flammable sky. The blaze required a very herculean effort to douse. Eventually, we were able to extinguish the fire, but not without evidence. Paper, burned around the edges and yellowed by flame, was littered about the ground. Pieces with fragments of sentences and portions of dialogue from my book, my thesis, my labor of love. One of the pieces said, "…one arm and a Marijuana dress." Another said, "Fears and regrets are solvent." I picked up as many pieces as I could, but it was nighttime and flashlights only work so well. What pieces I could gather I threw out when I got back to my dorm.
All but one.
I graduate. I move back home. I am painfully unemployed and even more painfully ill. Grief gets the better of me, and I spiral for what feels like months, and when I look up at the calendar it's actually been months. A third of a year, to be precise. Still officially unemployed in September, I begin sending job applications for writing positions everywhere: San Francisco, Austin, Boston, New York, Oakland. I send so many applications that when emails come back regarding the positions, I have a hard time organizing them all, so I don't. Instead, I run and eat avocado toast and travel back and forth between Indiana and home.
The middle of September, I get an email from a marketing firm based out of Berkeley saying they want to set up an interview. I think, all my troubles are over. So, with the help of my parents, I book a round-trip flight to San Francisco to interview with the job and maybe scout out a few other opportunities. Three weeks is what I gave myself.
Twenty-one days.
I am in high spirits the night before the flight. I'm going back to California, the place I'll forever and always rather be if given the choice (or chance). On top of that, I'm at a neighborhood music festival and drinking with childhood friends. We're onto our third stage of music when I check my email and find a note from Mills College saying I hadn't yet completed the MFA program and would not be awarded my degree, thanks, and have a good day. I'm devastated. Now my charge is to not only interview for a job I still don't have but to now battle for the fate of a degree I don't have, either.
I stay with an old friend in Oakland and spend almost all my time running. My interview is the Monday after I get in, during the first week of my trip, so I bum around for the first two days and visit Bay Area friends, eat at the Vegan restaurants I loved during my time at Mills, and read on the transit; a few of my favorite things.
I nail the interview and am the proud owner of a sales position based on commission. What I'd be selling is never made clear, so I balk. I've never been a people person. I actually hate people. I spend most of my time alone and prefer things that way; a side effect of having running, writing, and reading as your go-to activities. I'd rather be on a trail with my headphones blaring or anonymous in a busy café with a novel or a notebook and pen. The next morning, I call the interviewer and tell them I'm going to pass on the offer. They reinforce how well they think I'll do, but I tell them the position just isn't what I thought it was going to be and hang up with no job and no real sense of home.
I don't give up, though. I pull up my women's black jean cut-off shorts, tie my nipple-length sandy blonde hair back in a ponytail, and get back to work. I send out over fifty applications those first four days following the interview. But, it's Friday now, and I haven't heard back on any of the jobs and I still haven't figured out my degree; that appointment isn't until Monday. My second Monday. I begin to feel like I'm running out of time.
The weekend passes without any job news and my degree still very much in the air. I go to my meeting on Monday with my faculty advisor and we realize my Intro to Sports Medicine elective was never signed off on. I'm one measly credit hour short of graduating.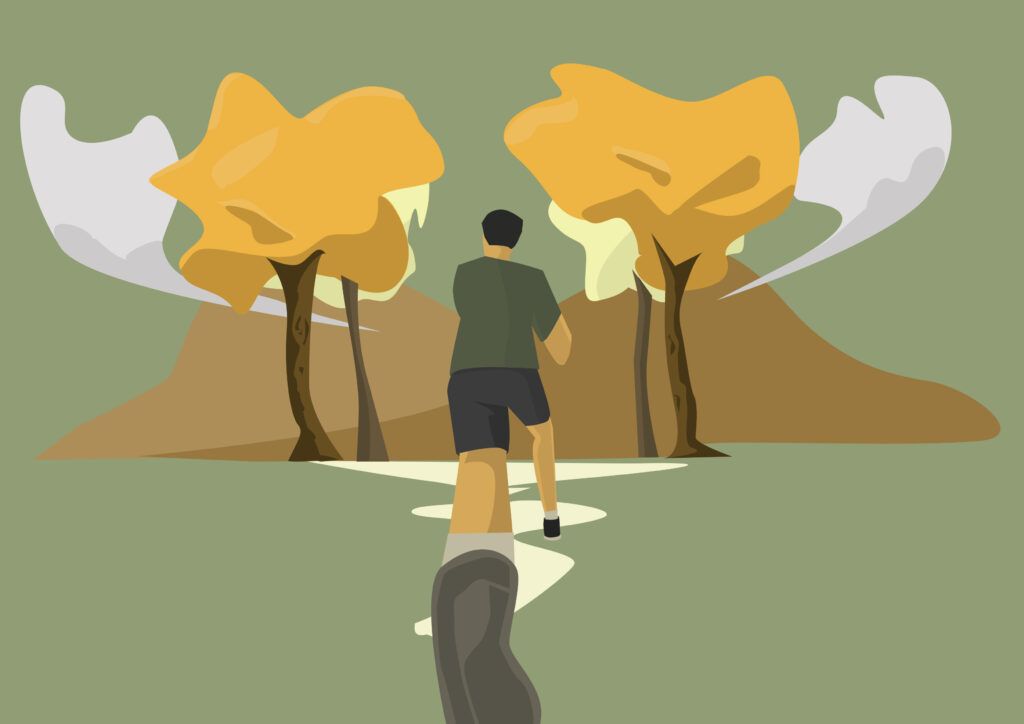 "Did you do any writing in this class?" I remember the advisor asking me.
Relief washed over me. I have been keeping a running blog since 2014 and had at least seven posts written over the course of my elective, all having to do with health and fitness. This was enough to satisfy my advisor, but she reminded me I would still need board approval. I spent the next two days tracking down those posts and compiling them into a single document for the department chairs to review. Once I had all the posts combined in one document, I turned them in through the appropriate channels and began the waiting game.
The waiting game didn't end until two weeks later, my very last day in the Bay.
In the meantime, I continued sending out as many job applications as I could. I applied to be a bike tour guide. I applied to read books to the blind. I applied to be a marketing specialist. Fortunately, by the end of the week, I had an interview for the marketing specialist job and was excited at the prospect of doing some writing professionally again.
What I didn't know was that my friend living in Oakland at the time was moving to San Francisco the second Friday I was in town. Begrudgingly, I helped this friend move to the Sunset District, hauling sofas and mattresses and coffee tables up three flights of stairs to get him situated. Begrudgingly, because his move meant I had nowhere to stay.
There are many points of etiquette when it comes to living with other people. One of the main ones, I feel, is to not have friends living on your couch rent-free. In my experience, this has only pissed other people off; so, when I asked if I could stay for the remaining week, his two new roommates declined.
Not only was I jobless, penniless, and degree-less, I was homeless now, too.
I called about fifteen friends in the area asking if I could stay with them. Some were gracious enough to offer me a single night stay, but that was all they could afford, they told me. Only one of them could offer me the whole week. The catch is that it would be in the same dormitory I lived in when I was a student at Mills.
Downstairs from the room where I tried to end my life.
I laid out on the couch those four nights at Mills, directly underneath my old room, and wondered what the current tenant would think if I divulged my little secret. Instead, I put my headphones in and listened to videos of rain sounds on YouTube and hoped my interview for the marketing specialist job the following Tuesday would pan out.
And it did.
But not in the way I'd hoped. The job turned out to be another sales position. I would be selling cellphones outside Same-Day Cash Advance outlets in random neighborhoods throughout Oakland. My starting salary was going to be $20,000/yr. plus commissions: not nearly enough to live on in any state, much less California.
So, after telling the hiring manager I was going to take the job in-person, I called them back about an hour later standing in my old dormitory's kitchen saying thanks but no thanks and that was that. Now, I had three days to find a job or head back home with an even emptier wallet and my tail tucked between my legs.
By Friday, the day before my flight back to Cleveland, I got an email from the board saying my submission had been approved and that I was going to get my degree after all. I was sitting with a bunch of friends, at the outdoor amphitheater on campus, when I got the email. We celebrated by smoking a bowl, but my celebration was short-lived. While getting my degree approved was great and well-deserved, the reality was that I still didn't have a job.
I had a degree, but no job.
And, to make matters worse, my friend who moved to San Francisco was busy learning their new commute and getting into their new routines. The person I was staying with at Mills was elbow-deep in studying for a test — biology, I think — and couldn't hang out. It was just me revisiting some of the lowest times of my life, while living the actual lowest times of my life.
So, I kept running. I ran ninety miles that week on the heels of eighty-five the week before, and I ran eighty the week before that. I would go out for eleven miles in the morning around Lake Merritt and then another ten to eleven in the evening from Downtown to Piedmont to eventually arrive at Mountain View Cemetery, my favorite place in the Bay to write. I ran up hundred-foot hills at 15-degree incline over and over and over.
And with obviously nothing else going on in my life, I decided to accomplish a goal I set for myself earlier in the summer. In July of that year, while running fifty miles a week, I told myself that if I still didn't have a job by the end of summer, I was going to try and run 100 miles in a week; a feat that I had only ever been able to accomplish four times prior, and with months and months of training behind me.
I knew the road was going to be tough, but not having a job or money or a place to call my own is tough enough. I didn't have a partner. I had abandoned all my friends to move to California, and in bouncing between Indiana and Ohio that summer, I had lost most of my contacts. It was only the gracious generosity of my younger brother, who I stayed with in Indiana, that saved me during those low periods of my life. All I really had was my writing and my running, but my brother reminded me of the good in the world; the unconditional love people can have for each other, no matter what their lot in life.
So, I ran.
I came home from almost two years studying fiction in California in the spring of 2018 with a degree and no job, and I came home from three weeks of searching for work in the Bay Area in the fall of 2018 just the same: a degree and no job.
I spent a week at my parents' place in suburban Akron, running and writing and reading and looking for jobs, and when nothing came about, I drove back to Indiana for a week, because the restaurant I was moonlighting for had dish shifts for me.
That same summer I almost fell from my older brother's bedroom on the second floor trying to wash windows. I almost fell trying to avoid a bee's nest while standing on a ladder twenty feet in the air while power washing the siding on my parents' house. In June, I cancelled an under-the-table landscaping job I had at the last minute because of an acute bipolar episode that left me bedridden for two weeks.
So, when the restaurant manager texted me and asked if I wanted the shifts, I said, "Yes," with absolutely no hesitation. Four hours later, I pulled into my brother's place in East Central Indiana ready to work for whatever scraps I could get.
And scrapping, I did. I ran between the line at the front of house and the dish room, which was just a hallway leading to the rear storage area with a dish machine casually placed near the back door, carrying stacks of plates, towers of cups, and a mess of sauté pans. When two dishwashers worked together, you'd have to slide past one another, brushing body parts the whole time. Danger lurks everywhere in a kitchen; scrapes and burns and cuts are almost imminent. Heat radiates everywhere. And before every one of these shifts, despite how grueling and unrelenting they'd be, I'd do what most people I've worked beside in the restaurant industry call crazy: I'd go for a run.
It was a Saturday, the day before the autumnal equinox. My mileage was right around ninety for the week. So, with nothing else to do, I made up my mind. I was going to finish what I started in July. Remembering California, and as a kind of nod to the Bay and my time spent there, I took the little slip of charred paper I had found at the hearth at Mills and tucked it into my utility belt.
I then went through my pre-run rituals: dynamic movements, plyometric exercises. I cleared my head, took a deep breath, and threw a prayer to the sky.
What I was about to undertake meant everything to me. Deep down there was a feeling that I could still be the person I was before I tried to kill myself. I could (and still can) feel the pressure of having tried to take my own life bearing down on me. Running helped me refocus.
I started out slow, but my paces increased quickly. My first mile was an 8:16. By Mile Four, I was under 7:00/mile, where I would stay until the final mile of the run. I swept through narrow, countryside roads that hadn't been resurfaced in what looked like twenty years. I passed curious cattle and even more curious farmers, who probably didn't see determined runners wearing brightly colored spandex rocketing past at 10mph all too often. Miles Eight and Nine were 6:15 and 6:13, respectively.
Mile Ten was my biggest challenge and what I had worked toward for months. Logging Mile Ten meant 100 miles on the week for the first time in over two years. I could feel the music I was listening to, a song that powered my training for my first Boston in 2011, radiating throughout my body. I could feel it in my fingertips all the way down to my toes. I was floating on air. My pace picked up even more, and with a quarter-mile to go, I reached into the utility belt strapped to my waist and pulled out the small, singed piece of paper.
It was time.
There's a part in the song "Optimistic" by Radiohead that climaxes with a haunting howl by band front person Thom Yorke. Yorke sings sarcastically about little pigs and their duty to society, potentially a reference to George Orwell's Animal Farm. Either way, the song was nearing the climax, and the piece of paper was in my hand.
"Scream," it said.
"Scream."
I thought about the night I tried to commit suicide. I thought about graduating and then having to battle for my degree all over again. I thought about living at home with my parents as a thirty-two-year-old. I thought about having no money. I thought about having no job. I thought about being lonely. However, I thought about how far I'd come most of all.
So, when my watch beeped to signal my tenth mile, singed piece of paper held high in the air, music transporting me back to 2011 and the left turn onto Boylston, I felt seven years of sweat and blood and gruel roil within my heart. I took that fucking piece paper, representative of hours upon hours of work on what would eventually become my very first published novel, flung it as hard and as far into the Indiana cornfields as I could, opened my mouth, and screamed.