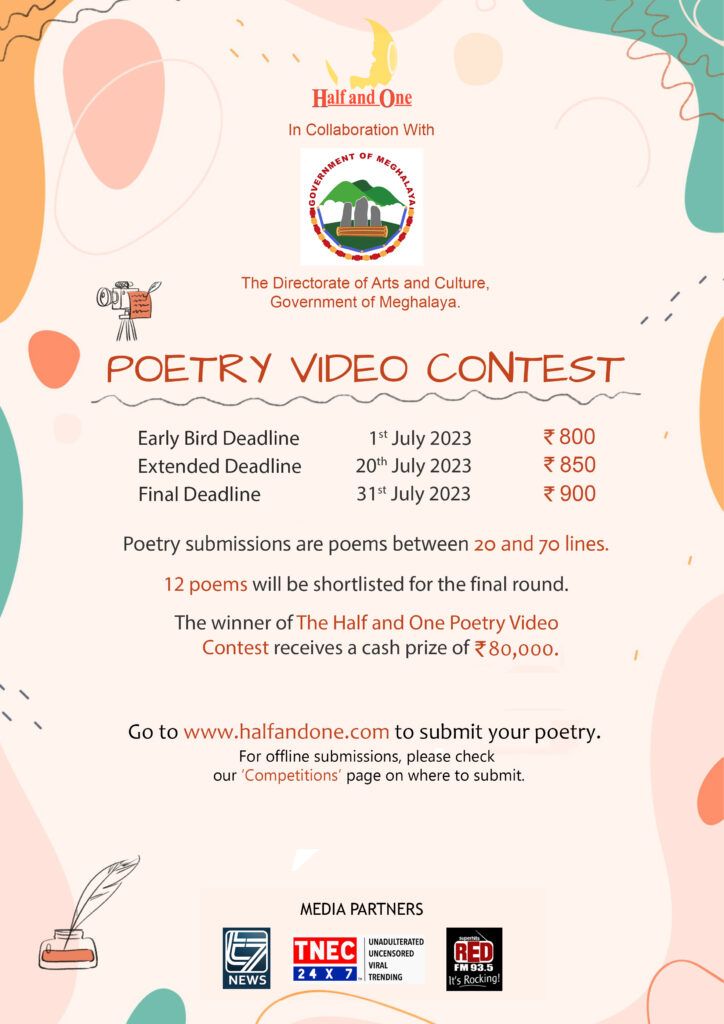 We welcome submissions of previously unpublished poetry.
Poetry submissions are poems between 20 and 70 lines.
One poem per entry.
The winner of The Half and One Poetry Video Contest receives a cash prize of ₹80,000.
Poems have to be creative enough for us to create a video out of.
12 poems will be shortlisted for the final round.
All 12 poems will be made into a poetry video.
Early bird entry is ₹800 until July 1, 2023.
Extended Deadline entry is ₹850 until July 20, 2023.
After July 20, entry is ₹900.
Final deadline is July 31, 2023.
For International Submissions:
International customers will have to use our Submittable link to submit their poetry.
For Indian Submissions:
Please pay using the link below.
After making the payment, please email us at

[email protected]

to confirm your payment.
After payment confirmation, you will recieve a form in your email.
For Offline Submissions:
Please check our Socials for regular updates on where you can submit offline.
Our forms will be available in various establishments throughout town (Shillong area only).
After recieving payment, the establishment will provide you with a form to fill.
Please submit in clear handwriting and adhering to the competition rules.
Offline Submissions can submit to the following establishments:
Bon Appetite (Muda)
Cambridge Book Stall (Muda)
National Book Agency (OB Shopping Mall)
Tid Bitz Grill Republica Cafe (Wards lake)
Boba Tree (Lachumiere)
House of Pearls (Laitumkhrah)
The Reid Diner (Laitumkhrah)
Baking Leaven (Laitumkhrah)
Tid Bitz Grill Republica Cafe (Fire Brigade)
The Grub (Laitumkhrah)
C.R Complex (Muda)
S.K.D & Sons (Muda)
Cafe Shillong (Laitumkhrah)
SUBURB (Laitumkhrah)
Hashtag (Laitumkhrah)
Click Cafe (Laitumkhrah)
Roma Eatery (Laitumkhrah)
Amigos (Laitumkhrah)
Olivia's Kitchen (Laitumkhrah)

Please Note:
We accept simultaneous submissions but please inform us at

[email protected]

if your work has been accepted elsewhere.
Please do not include your name or any identifying information on your submission.
By submitting to Half and One, you verify that you are the Author of the submitted work, and that the Author grants Rights to Half and One for publication. Rights revert to the Author upon publication.
Please credit Half and One as place of first publication, Half and One reserves the right to make minor copy-editing changes to the manuscript.
The Author grants the right to Half and One for creating a poetry video for their submitted piece.
We reserve the right to extend the contest deadline as necessary.
*compettition dates subject to change