Sammy, 9, was having unprecedented trouble picking a seat at the blackjack table. He had no problems in deciding which table to join– the games were all the same to him, since he did not know the rules to any of them. He knew how to play Go Fish to varying degrees of success, depending on the opponent (his older cousin David had taught all of the other cousins how to cheat, except for Sammy, and so he was relegated to pity-play with the more sympathetic adults). And though he had no way of confirming this without checking out each table individually, he got the feeling that, ironically, the Mermaid's CoveCasino was not the type of place where adults played Go Fish. He had just learned in reading and writing skills that an apostrophe before the "s", as opposed to after, meant that the cove belonged to just one mermaid. Sometime, throughout the night, he would find her. He knew mermaids weren't real, but maybe he would find out more about her story—who she was, how she acquired this cove and why she was forced to go commercial with it. He crept up to one of the stools at the blackjack table, whose presence made it easy to choose this table as they appeared to be the tallest seating option at any of the tables, and would therefore give Sammy the clearest view of what was happening on the table, though, again, he would have no way of following along. These two things (arbitrariness, stools) made the blackjack table the clear winner of the tables. He was determined to figure out how something worked, apart from the slot machines that made his eyes hurt. He vaulted himself on a stool three down from the man with the bowtie and vest, and began to watch the game.
At some point, he noticed that the two couples he was standing between were shooting each other looks. He assumed that this had something to do with the game, yet his attempts at tracking the game didn't seem to be pitting these four against each other in any way. The bowtie man began to shift his gaze between Sammy, one couple, back to Sammy, and then to the other. He didn't want to be noticed, even a little bit, and so he left.
Small bits of change rattled around in his shorts' pockets as he walked around the edge of the giant games room. He was looking for something else to do, and that desire was pulling him aggressively towards the middle of the room, where all of the action seemed to be occurring. But, his instinct was to stay on the edges. This was a strategy he had developed through years of experience getting lost in new places. His mom usually blamed him, and said that he was just "one of those kids" who always ran off in the grocery store, but he had never felt that to be true. Usually, he'd just be looking at a box of fruit snacks or something and she would just start to walk off without him. Eventually, he had figured out that the best thing to do when lost would always be to find a wall and follow it along until he hit a front desk, or found his way back to the front door. Most places that seem like mazes are actually just big rooms. He had never been to Las Vegas before, and had a strong itch to go outside where it was brighter and explore "the Strip". But his mom had told him to stick with grandpa, and he had agreed with Sammy that "stick together" meant that they were to stay in the same building.
He started to do laps around the edge of the main room. Whenever he passed the blackjack table, he could feel the bow tie man's eyes on him. He wanted to run, but knew that that would draw more attention to himself. Besides, nobody else seemed to want anything to do with him. He passed rows and rows of slot machines, each one flashing different colors and playing different loud sounds, so loud that Sammy couldn't even pick apart the words to hear what they were saying. For some reason there seemed to be a lot of young people playing cards, and a lot of old people sat on stools in front of the slot machines, so Sammy ducked in some rows to see if his grandpa was among them. He wasn't. But, this didn't bother Sammy. If he wanted to find his grandpa, he probably could. And his grandpa was probably busy doing something, so he decided to keep exploring.
What he found was that the building was actually a massive complex of seemingly infinite rooms with a hotel sat on top of it all. He passed through a corridor full of fancy shops, including a jewelry store with a sign in the window that read "WE DO NOT ACCEPT CHIPS AS CURRENCY" and an attendant whose eyes told him to move along. There were several dimly-lit bars and restaurants scattered among the smaller rooms of slot machines and tables, and the smell of bathroom soap and discarded cigarette butts wafted in from the infinite pocketed corners of the maze. Overall, nothing in particular grabbed his attention. He wasn't yet at the age where he was interested in aspects of tourism such as this, and so the crowds of people drinking and gambling in Hawaiian shirts and cheap plastic leis were not particularly charming to him on a sociological level. Among all the bright colors and adult smells, he was inextricably, bored.
Mermaid's Cove was famous for its seafood buffet. The presence of a seafood buffet in an ocean-themed casino seemed to trouble no one as much as it did Sammy, so he thought it his duty to point this out to someone. He walked down the hallway towards the brightly lit entrance with as much confidence as he could muster, and approached the girl in the chair.
"Excuse me. Do you work here?"
"I do." She smiled at Sammy the way his teacher smiled at him when he did something polite, like offer to show a new student where the bathroom was. She looked to be about his sister's age, though he didn't think his sister was old enough to work at a seafood buffet, so he was probably wrong.
"Do you own this place?"
She picked at her black fingernail paint. He'd never seen anyone wear that color on their fingers. It freaked him out a little bit. "No no no, I just work here," she said. "Do you need help finding someone?"
"No, thank you. I just had a question, maybe you could answer it because you work here. Can I ask you?"
She looked behind Sammy, saw that there was nobody in line behind him, and nodded.
"Why do you serve fish here?"
The girl seemed confused, and so Sammy waited. She asked, "Lots of people like fish, is that what you mean?"
It wasn't, really. "Not really. I more meant don't people get upset, eating fish in a place that is supposed to feel like they're in the ocean?" She thought for a second, and he added, "It seems like a bad business idea."
"Like, it's in poor taste?"
"I don't think it matters how good it tastes. I just think people should complain."
The girl giggled, and Sammy decided she was difficult and wasn't going to help him any further. He was about to turn around and leave, when he read a sign on her little table: "Kids Eat Free on Weekdays!"
"Is this real?" Today was a weekday, and Sammy simply could not believe his luck.
The girl peered over the sign. Apparently she could read upside-down. "Oh, yeah. But I think you're supposed to be with a full-paying adult." She frowned at Sammy in a way that made him feel very young.
"He can be—he's with us," a voice chimed in from behind him. Sammy turned to see that one of the couples from the blackjack table had joined the line that had formed behind him. The woman, who had spoken up, winked at Sammy. He remembered them because he thought that the man was the tallest man that he had ever seen, but the woman was just normal height. They seemed nice enough and not dangerous, he had assessed earlier, so he allowed these hijinks to pursue. (That was what he told himself. In reality, the encounter had happened so fast that he was at a real loss to stop it.)
"Uhh… yeah. Okay. That works." The working girl nodded and swiped the man's credit card. The couple walked through the arched doorway that separated the world from the seafood buffet, and Sammy followed.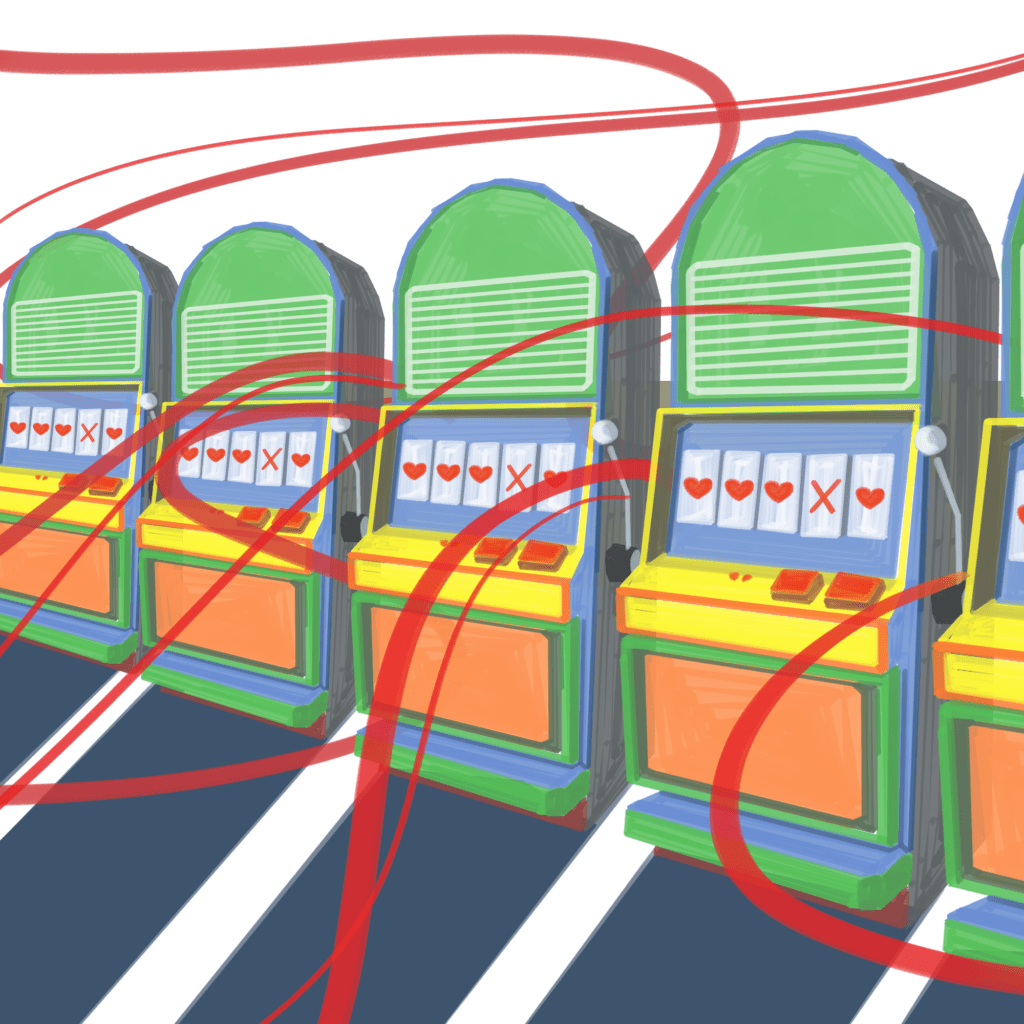 After a slight bit of panic, he emerged with a plate of grilled chicken and desserts, and looked for a place to sit in the ship-themed dining room. It was nicer than his school cafeteria, but the feeling was still the same, so when he spotted the couple waving him over, he felt a wave of relief despite not actually really wanting to meet these people. He went over to sit, so the woman joined the man on the other side of the booth. He had black hair, and she had fake red hair. His mom did hair, and it was her job to make fake hair look like real hair, so he had taught him to spot the difference by pointing out when someone's hair-doer had done a bad job. Her hair was bad, and so he was a little suspicious of her.
After a slight pause, the man took a sip of his water, and leaned back. "So, where are your parents?"
"My grandpa is around here somewhere. I'm with him for the day." Sammy started to cut into the grilled chicken. He had wanted something without legs or tails, but he was starting to regret his choice since the chicken wasn't actually looking so good to him anymore.
"Do you live here?" The man asked and grabbed the woman's hand. She was eating a salad.
"No. Do you?"
"Nope, we are… on vacation." The man smiled at the woman.
"We're getting married," she told Sammy, very proud. That felt right, since this woman didn't seem old enough to have kids. She looked younger than his mom, and his mom was a young mom.
"That's cool. When's the wedding?"
"It was last night." The woman answered, put down her salad fork and started paying more attention to Sammy. "We got married by Elvis."
"Who's Elvis?"
They both laughed. The man's laugh was loud, not self-conscious like his mother's. "Elvis was the King! He's dead now, but you can still get married in Vegas by a guy that looks like him." This man was clearly insane, and Sammy started cutting his chicken into small, evenly sized squares. He didn't really know about weddings.
"Was it… nice?"
"Uhh…" The man looked at his wife.
"Yes. It was nice. What's wrong with you? It was nice," she spat at him.
"Okay, okay. Sorry. Yes, it was nice. Just us, and Elvis, and some guy witnessing it."
"You can get married without your family there?" This was news to Sammy.
"Yep, it's called eloping." She seemed very excited about their choice to elope. She kept drumming her fingers on the table like they were itching for something to touch in absence of the salad fork.
"You weren't sad that your family missed it?"
"Us? No." The man said, and he shook his head. "I mean, are you sad to be running around this casino without your family? No, right?" Sammy shook his head back, no. "Right. Because it's fun." His wife looked at him sort of funny, then turned back to Sammy.
"Do you like your parents?"
"I like my mom a lot. I kind of have to, though. She's my mom."
"No, you don't." She was looking right into his eyes. "You can resent your parents if you want to. But why do you like your mom? What makes her a good mom?"
"I don't know. I don't really think about stuff like that. She helps me with my homework, and feeds me, and stuff. Is that what you mean?"
"Yeah, kind of." She looked at her husband. "Those sound like things we can do." She turned back to Sammy. "Do you think we'd make good parents?"
Sammy didn't know what to say. "If you want."
"Kristy, he clearly can't answer that question. His mom left him alone at a casino."
"Jason!" The lady sounded mad at him, but she was laughing, a little bit. "Sorry, honey. You're having a nice time, right?"
"I guess." Sammy suddenly felt the overwhelming urge to get up and run. He didn't know what to do with his dish. There wasn't a bin for it, like at school. "You guys can have these desserts, if you want them." He slid out of the booth and ran towards a glowing hallway, which called to him like a beacon of light cutting through water.
Sammy had no idea what he was looking for, but this seemed like the place where he would find it. It was a series of short hallways, all with different types of ocean things on the walls: a life preserver, a painting of a ship. One of those singing fish he had seen before in cartoons. He turned a tight corner, and the room opened up into this giant space with massive ceiling. He saw a giant, lit-up fish tank and remembered what it was that he was looking for: the mermaid who owned this cove.
It was one of those fish tanks that are just a giant glass cylinder in the middle of a room, but Sammy had never seen one of them before. It looked like something out of a movie. Almost as if he had summoned her with his mind, a mermaid swam down from the top of the tank. The fish around her moved out of the way, but not in a way that seemed like they were afraid of her. More they wanted to make room. Sammy was the only person in the room, besides her.
She swam down to his height, where her face was level with his face, and swung her tail down from above her head until it sort of floated behind her. Sammy stood completely still. She waved at him, and he wanted to wave back, but he couldn't. She put her fingers up to her lips, released a bunch of air bubbles from her cheeks, and used her hands to blow them into the shape of a heart. Sammy gasped out loud. She smiled, and started to swim upwards again.
She hung out at the top of the tank for a second, and he was worried she was going away. But after just a few seconds, she sunk back down to him. Her bright red hair was floating all around her head, and it looked fake, but in a really good way. It looked soft. She put her hand up to the glass and spread her fingers, and she looked at him. He felt his hand moving up to meet hers, and the glass was cool to the touch. They held there for what seemed like an eternity, and eventually she pulled her hand back, waved goodbye, and swam to the surface. He took his hand off of the glass. His hand had left a print on the glass of his fingertips and palm, with all their little swirls.