Sometime in a mythical approximate 8th century BCE, two brothers floated down the Tiber River in Italy, wailing into the hot sky.
A usurper king had wanted the boys drowned, leaving their mother Rhea no choice but to swaddle her babies in a wicker basket and let them drift down current. When a passing she-wolf heard the wailing, she stopped their craft with her nose, gathered their ankles in her teeth, and laid Romulus and Remus on sun-dried grass.
In ten minutes, they were nursing from her belly.
Romulus is thrilled at the wildness of wolf-life. As he grew, he flung himself passionately into the bloody mission of their hunts and wrestled well against his fanged and clawed pup-siblings. He was a durable, vicious, and energetic boy, built to sprint through underbrush.
For Remus, however, this life was a constant game of keeping up and keeping up appearances. He liked chasing after the wolves and his wild brother, but he felt constantly exhausted and out of breath. He liked yelling up at the moon with everyone (though he didn't understand what the wolves had to be so angry about). It was a struggle, most times, to keep his cheerful disposition, but this effort became utterly impossible during their meals. Everything was eaten raw.
Egg shells sliced the inside of his mouth, and cold egg yolks made his stomach heave. A furry rabbit's face or 'fowl with the feathers on' might have been good dining for hungry wolves, but Remus didn't think it was nearly worth all the fur spitting and tongue scraping. Romulus, at least, could relish in some of its aesthetic ferociousness: on hands and knees, face sticky with red, bits of intestine flecked in his hair. But, even he could not ignore the consequences of eating all that raw meat.
Almost every night, Remus and Romulus stumbled far away from the den to get sick. They clutched their roiling stomachs and rolled back and forth in pain, retching and shitting in the moon-silver grass, biting hard on their tongues to stem their cries. More stinging for the twins than the diarrhea was the sight of the other's discomfort, their mirror image distorted by tears.
Still, they always went together. Romulus and Remus refused to let the other suffer alone.
One night, while the others ate, Remus only pretended to, imitating their wet gulps and, secretly, smuggling hunks of goat flesh between his thighs. When Romulus and the wolves fell asleep, Remus waddled deep into the woods. There, he started a fire, stabbed the stolen meat with sharpened sticks, and held the spits close over the flame.
Watching the dead flesh sweat beads of juice, suffer in the heat, and crisp to gold, Remus was seized by a strange pleasure. He savored the tenderness and moisture of the meat when he ate, even the slight burn on the tip of his tongue. But, the taste was only so important to Remus who felt, for the first time, that he had truly asserted himself in this world.
"What are you doing?" Romulus appeared at the firelight's edge.
"I call it barbecue!" Remus declared. "Have some."
"I'm not eating that! There's no blood on it. Is it even food?" Romulus spat. "You'd better put out that fire. If mom finds you, she'll kick you out of the pack and hunt you down and eat you."
"Why would she do that?"
"Because!" He wanted to yell but quieted his voice, "wolves don't barbakoo."
"At least try it. I saved the last steak just for you." Remus offered his brother a goat-steak. "Please, Romulus."
Romulus tore off a piece and concealed it quickly behind his lips. There, it seemed to melt over his tongue. His mind was taken far away, deep in the velvet warmth, and he devoured the rest of the meat without saying another word.
"Pretty good, right?
"You can't do this ever again, Remus." Romulus said, strands of pink juice dripping from his chin.
"Did you like it at least?"
Decisively, Romulus struck his brother in the head and kicked him in the ribs when he fell to the floor. This was the gold standard for conflict resolution in the wolf-pack.
"No more barbakoo. I mean it."
Of course, Remus kept cooking. Spices, dry rubs, new sears, marinades, a little garlic butter melted here, a tasteful garnish balanced there. Culinary techniques blossomed over his furtive little fires, and his pleasure grew exponentially with his ability.
Despite their disagreement, Romulus was always given last bite of whatever Remus made. His arguments were far less threatening through mouthfuls of deer burger or braised cutlets.
Remus endured his brother's beatings quietly and disposed of his anger by punching cuts of deer-steak or chicken breasts over and over to tenderize the meat.
For several moons, Mom had allowed Remus' human habit, but when she found him serving her pups a Southern Style Beef Brisket, she could brook the offense no longer. She barked once, and her litter dropped their mouthfuls.
Remus offered the she-wolf a heaping plate and grinned cheekily, "Check it out, Mom!" He cheered, "Beef Brisket!"
She lunged at the boy, claws shining like red needles in the firelight, and took his shoulder between her jaws. Mom would have killed him then if Romulus hadn't been there. He was stronger now, the fiercest thing in the Italian countryside. He took her roughly by matted, grey scruff and slammed her spine against a tree trunk. She tried to strike but was put down again. Romulus ripped a chunk of flesh out of her upper arm with his bare teeth and kicked her easily aside.
Now, his wolf-brothers were snarling and coiling for the attack. A final glance at his mother and Romulus pulled Remus away by a bleeding arm.
Free from Mother's watchful eye, Remus was able to prepare his meals in the open. He sliced Romulus' kills from chin to soft underbelly and shifted the steaming guts until his arms were lacquered in layers of blood, a child opening presents.
Veal Scallopini, Lamb Shanks on a Cashew Apple Salad, Slow Cooker Beef Cheeks in Red Wine. His talent flourished, and every night's meal seemed to beat the last.
This was hardly solace to Romulus who desperately missed his life in the wolf-pack. The world felt empty without the constant play of furry projectiles or Mother's proud figure watching over them. Remus alone was left to fill the void, and even he seemed a stranger now. His familiar smile and cheerful laugh rung dully against Romulus' ears, distant as the muted howls that kept him awake at night.
Seven hills rose over the horizon before the brothers one morning. High and windy and sunny, a perfect place. A prophetic excitement overcame Romulus and Remus. They started rolling boulders into low walls and discussing all this place could become.
"It will be a great city." Romulus asserted.
"Really great." Remus agreed "Super fun and lively but chill too."
Romulus panted as he heaved a boulder on top of the others, "Its name will be known all over the world."
"Yeah. People will be like 'Have you been to Remulus?' 'I love Remulus.' 'I have to go back.' And I can be the chef."
Romulus' lifted another great stone over his head. "Well."
"You want to be the chef?"
"No. I just don't think everyone is going to 'love' our city, Remus. We're going to be mighty and powerful. They'll fear us really." Romulus grunted as he tried to fix the rock into the right position.
"You've lost me."
When Romulus turned to his brother, his face was boiling red and sweating. "This is not a happy thing we're doing, Remus!" He shouted. "Don't you feel it?"
Remus shook his head.
"Rome is not just going to be another city; it will be the fountainhead of a huge and bloody empire! We're gonna have to kill a lot of people." When he closed his eyes, Romulus was surrounded by legions of countrymen, the world fleeing before their might. Seas of blood. Fresh grass coated in molten bronze.
A quiet fell.
Remus' eyes watered. Not only were creative differences getting in the way of the dream; he hated seeing this violent side of his brother.
Finally, he asked, "What's Rome?"
"Well, we're not naming our city 'Remulus.' It sounds silly."
Then — not for the first time, but for the first time that meant anything — Remus shoved Romulus.
His brother hardly moved, weak as Remus was, but the slight shift was enough to displace the boulder balancing over Romulus' head.
At this point, as the story typically goes, Romulus crushes Remus' head with a stone, christening the city walls with Remus' blood, forever engendering Rome with its instinct for violence. But now, Romulus himself is crushed. The great boulder lands squarely on his chest, caving in ribs which stab his heart.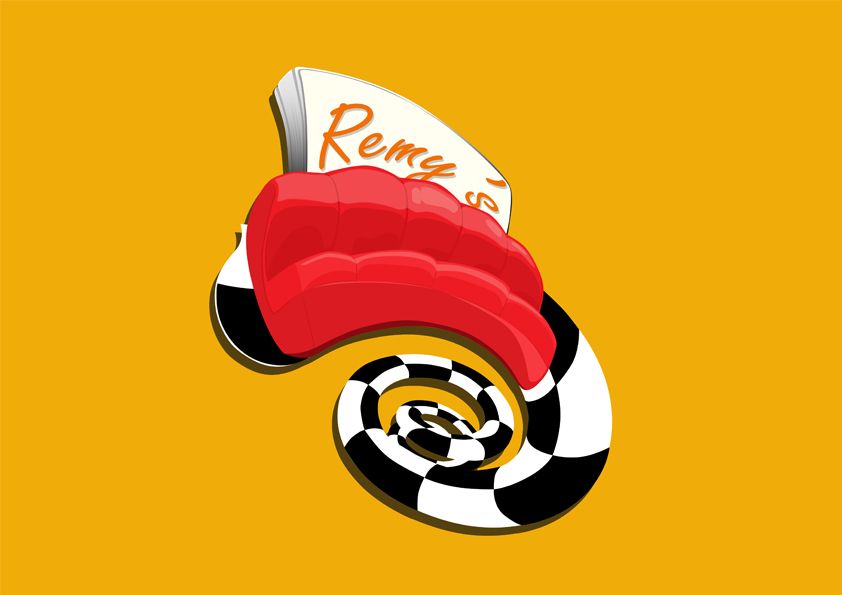 Remus shrinks to the ground in disbelief and lies beside the body. A pool of blood outlines their bodies the grass, and Remus bites down hard on his tongue.
After burying his brother, Remus kept building. His dreams were haunted by images of dead Romulus falling toward a setting sun. "West, Remus." His voice echoed "I'm going West." So, Remus hardly slept.
For months, Remus worked in this frozen daze. When he wasn't building, he cooked to dissipate his thoughts. In a world of fire, and flesh, smoke and salt Remus left his suffering behind, but when the meal was finished, he couldn't bring himself to eat it. These dishes — which routinely ended up dumped in the grass — were the most energetic and flavorful of his career.
It was not till the building was done, that Remus was able to smile again. He glowed as he looked upon his work. Instead of ancient Rome or trendy Remulus, he had constructed a modest 50's style American diner. He named it 'Remy's'.
Black and white granite tiles checkered its floors. Booth seats bulged in bright red pleather. Swivel stools (also red) stood at attention before a white counter. From the hand-blown glass ketchup bottles to the nearly ubiquitous aluminum siding, every detail was attuned tightly to Remy's futuristic aesthetic.
He hired fry cooks from the surrounding country and a fleet of Sabine waitresses to take orders. Portraits of a homunculus James Dean and primordial Marilyn Monroe hung on the walls. A rhythmic, tinny idea of rock and roll filled the air.
For the menu, he decided only to include simple things that were fun to cook and fun to eat. He lost himself again in preparing and tenderizing his cuts, chopping ingredients with brutal abandon; he traded his grief for grilling. The gleaming bodies of dishwashers and ovens formed a sanctuary around him.
One day, he dug up his brother's head, removed the rotting skin and placed the clean skull over his grill. Underneath its grin, he hung a plaque that read "Save the last bite for me!" Just something to remember him by.
Remus happily explained his gruesome in-joke to anyone who asked.
Remy's was an enormous success. Etruscans, Umbrians, and Sardinians came in droves. Initially, they were put off by the alien atmosphere, but the diner aggressively asserted its own familiarity and status as the hegemonic standard. None could deny the practicality of his plastic menus (of course twelve-and-unders got the paper ones with puzzles on the back). After a Double Double Two Dollar Deer Burger and a greasy basket of fries, all fell into cultural step.
Early on, Remus, as company president, established the brand's official mascot: a character named 'Mama Wolf' that instructed children in table manners. Eventually, it became a familiar icon around the Mediterranean, and discussions of global chain locations were on the table. The company was turned over to business managers to deal with all the hirings, firings, wage adjustments, asset requisition, marketing, etc.
Remus didn't live to see his business contend with the Carthaginian Chicken Kitchen or guerrilla Gaulish Food Carts for domination of the food chains. He managed the location he founded and opened two other sites on the Italian peninsula. Mostly, he spent his days in the kitchen.
Standing behind his grill, Remus was firmly set into his place in the world. The other cooks laughed at his bad jokes and followed his orders, and just beyond the saloon doors, a captive audience of adoring patrons ate his creations.
Every night, just after the dinner rush, Remus would leave the kitchen to visit his customers. He'd whip a sweat stained towel over his shoulder and say "Ah, if it isn't the usual suspects." The whole place would erupt in laughter at that, and then folks would cry out praise for his cooking and tell him the happenings of the world before Remus returned to his kitchen and the Sabine waitresses resumed their interrupted orders.