When the fall foliage is at peak volume and the farm shifts from one season to the next, I think of Mathias. It was on an October day like this, the sun bright and the air crisp, the sort of New England weather that makes a heart feel giving, when I first gave him an afternoon off. As I backed the faded John Deere into the barn that day, I watched him wax his car in the drive, head nearly level with the hood, plumber's crack high. It wasn't the usual farmhand's second-rate truck, but a little cream-colored Fiat that he kept spotless. When the tractor was in its bay and the overhead door pulled down, I passed him on the way to my truck.
"Big date tonight?" I asked.
He straightened up from where he was rubbing the fender with a cloth. "Yep."
"Who's the lucky girl?"
"She lives down the road in that double-wide."
"Charlotta Templeton?"
"Templeton is it? Didn't know her last name."

"How'd you meet her?"
"Every time I drive the tractor and manure spreader out to those hay fields, she's sitting in the yard, there in a folding lawn chair. One day she waved. Next time I went by, I cut off the tractor and we started talking."
I considered that. "She tell you her family used to own those hay fields and that house you live in?"
"She didn't mention that. Says she's just gonna show me around town. You know I ain't been further than the store at the crossroads and those hayfields since I got here."
I did know it. Mathias had worked for me about a month by then and I'd had him hard at it. When he started for me in September it was right in the middle of making second cut hay and I was as busy as a one-armed apple picker, behind on everything, really. The weather had been good and we'd been going strong on that hay, everyday something to do — mow, rake, bale, stack, repeat. He knew when he took the job there'd be weekends to work, but I was glad he was getting out now. Charlotta was ok, best I could tell, though every time I saw her, ever since she was a little girl, she reminded me of a fifty-five-gallon barrel in a Bruins hoodie.
That he didn't know her last name told me he didn't know much about the Templetons at all, so I clued him in. "Her grandad was more drunk than dairyman, couldn't keep the place. When I was little, my dad bought it all — their land and house anyway — on the courthouse steps for back taxes. That lot her parents' trailer's on is all they hung on to."
I left him to his car and date. He had the afternoon off, but I didn't. There were still hogs to see to and bred ewes to check on. We were mostly done with hay season at that point and I didn't need Mathias's help over the weekend, though I had plenty to do myself.
I miss the days when I was a kid and helped my dad with the farm, and when he was old and helped me. When it was just the two of us. Those days were gone. Are gone.
Mathias was one in an ever-unspooling thread of hired men. Some of them were ok, some could've been better, and some were no good at all. It was too early to tell which category he would fall under, but so far he'd been alright, good even. He came with experience, which is hard to find, and he knew a bit about making hay. Most grown men don't anymore. When he'd answered the help wanted ad I placed online, I'd asked for his resume. That's a pretty low bar, but one most can't reach. His showed he'd worked on farms all his adult life, eight or ten years, mostly with hogs in the west and Midwest, on a goat dairy in Oregon or Washington. He'd stay somewhere a year or two, then move on, seeing new places I guess the way a lot of millennials do. I never checked his references. There was no point — nobody else applied for the job and I was close to desperate. He showed up at my place in that little Fiat, not much more than an air mattress and big screen tv wedged behind the front seat, five days after he'd given his previous employer two weeks' notice. That sort of loyalty will bite me in the ass someday, I thought back then. But with my dad gone and no hired help at the time, I was glad to have him.
I lived on the southside of the farm in a house that had been in my family for at least five generations, depending on who you counted as a relation. The old Templeton homeplace that came with Mathias's job, on the north side, was on a different road, but a tractor path connected the two. The hogs, the hay equipment and the hay were all in barns at his place. On my side of the farm was the sugarhouse and lamb barn, and an old bank barn I'd renovated into a party space, an events venue the agritourism consultant called it. That's what they suggested we do with old barns — clean them up and charge people money to have weddings or memorial services in them. After five generations that's what it had come to — more than the hogs or the hay or the sheep or the sugar, I was a wedding farmer, which meant letting people park in my best pasture, making sure there weren't too many flies, and being treated like the help by some anxious mother of the bride. God's honest truth, that's what it was and I hated it, but pound for pound there was a lot more money to be made off a bride and groom who wanted a rustic farm wedding than there ever would be from a whole pen of fat lambs.
I didn't keep too much track of Mathias, especially on weekends. If there was something going on in the party barn, right by my house, I was busy seeing to that. Other than feeding the hogs, since they were right there by his place, he normally had most Saturdays and Sundays off. A few weeks after his first date with Charlotta, I went over to his side of the farm one Sunday morning early to load some hay for a customer. It was midmorning when I was done with it and guess who walked out the front door holding a cup of coffee in one hand and a cigarette in the other? Charlotta, of course. I wouldn't say I was friends with her folks, but I'd known her all her life. So she waved and I waved back, just acknowledging each other, me working on a morning other people sleep in and her looking like a fifty five gallon drum in a bathrobe. Good for her, I thought. Good for Mathias, too. A hired man with a local girlfriend is likely to stick around, was my thinking.
Mathias and I got on alright, like I said. We could find things to talk about if we needed to, but I didn't ask about his personal life and he hardly ever asked me anything at all. If he had, I might have told him how when my dad was alive he could fix anything, even if it wasn't broke as he liked to say, or how we kept a pair of draft horses — Samson and Duke — when I was a kid just for the fun of seeing them work. I might have mentioned what a big, vibrant woman my mom was and how small she became at the end, how her illness was the one thing my dad couldn't fix. But those things never came up. When we did talk it was mostly about work, what needed to be done and when. That fall what needed doing was getting ready for winter and the sugaring season that would follow like night follows day. It's late winter, February or March usually, when the sap starts running. But long before that, once the cold weather settled in after Thanksgiving, we tapped trees. He didn't know pure New Hampshire maple syrup from Mrs. Butterworth's apron, but any fool can drill a hole in a maple and tap a spout into it with a hammer. That's what we did every chance we got, walked through the woods following the plastic tubing from tree to tree, all three thousand, eight hundred and forty two of them, give or take a few. It was on one of those days with the feel of snow in the air — things were taking longer than usual and we weren't out of the woods yet — when Mathias mentioned Charlotta had moved in with him. He wasn't asking me if she could and didn't have to — it was his house — but I guess he figured I should know.
"That's great," was all I said, not too surprised since I'd known she was there a lot already.
A man doesn't miss much on his own farm, though I did pause a moment to wonder which of them could've done better. Neither, I guessed. That must be how people end up together. But mostly I thought maybe it meant he'd stick around a while. After that I saw more of Charlotta when I was over at his place, like the fact she'd moved in was out in the open. The day after Thanksgiving I saw her hanging Christmas lights on the fir tree outside the house. I couldn't remember the last time anyone had done that. The next day a wreath appeared on the front door. It looked nice, like someone lived there who cared. And not long after that I could see a Christmas tree in the front room, lights twinkling. It made me think I should probably get one, too.
Just like Mathias never asked me if Charlotta could move in with him, neither of them asked me about having a dog, though I would've said no problem. I like dogs. So it was no big deal when they introduced me to Francine one day.
"We just adopted her. She's our Christmas present to each other." Charlotta beamed like a lighthouse. Francine, a little white thing that looked to have been swept up off a barbershop floor, squirmed in her arms. "Me and Mathias both put our names on the adoption papers, so we're a real family now. Me, Mathias and Francine." Though Mathias didn't say anything, he never really did I'd learned, I'd never seen anyone as lit up with life as Charlotta. She had her family's old home back and now she had a family in it, too, I guessed.
When mud season came the sap ran just like it always had. I mostly kept myself to the sugarhouse, spinning straw into gold, or at least sap into syrup. I liked that part of the job still, but I let Mathias haul the sap from the woods to the sugarhouse, let him do the bottling and clean up. That's the real reason to have a hired man, so you can let them do all the things you don't want to. His job title was farm manager, but that was just puff. He didn't manage anything, just did as he was told.
As always happens, it seemed we had just cleaned up from sugaring season and had all the taps pulled back out of the trees when lambing started, then hay season right on top of that, it being a dry June. It was mid-July, hot and dusty as ever, and we were getting towards the end of making first cut hay, when he told me one afternoon that he had to leave early.
"What do you mean?" It was just after lunch and we had a clear plan for the rest of the day, clear to me at least, that he would rake the hay and I'd bale it. "It's gonna rain tomorrow, Mathias, and this hay won't rake itself."
"Gotta take Francine to the vet."
"She having a medical emergency?"
"Needs her teeth cleaned."
If I was a younger man, I guess that answer would have surprised me, might have even made me mad given how much hay was laying on the ground and knowing rain was coming, knowing that Mathias actually knew all that, too. So, I gave him a second chance. "She needs her teeth cleaned?"
"Yeah."
"That's not really a life-or-death thing, is it? Like, she could get them cleaned in the evening or on a weekend?"
"It's not life or death. Just she has an appointment." There was no apology in his voice.
I knew Charlotta couldn't drive, or wouldn't learn to — they'd had a big fight about that though I didn't know the details — so she couldn't take the dog. "How about you call your vet, reschedule the appointment, and get on that John Deere sitting over there?" He wanted to argue, but I said it nice enough that he couldn't. There's plenty of steel in me, maybe he didn't know that yet, but it was the first time I saw something in him that darkened the day. It passed quickly, like a speck of cloud before the sun, then he made a call, got on the tractor, and started raking hay. I didn't suspect the storm within him then, but if I had stopped to think about it I might have noticed that the clock on Mathias's time with me started counting down that day, that the Christmas lights and adopted dog weren't enough to keep him. And of course, there's some things a man just can't take. Maybe cancelling the vet appointment was it for him, though I didn't give it any more thought at the time.
It was a year and a few months after he'd started for me, early December, when Mathias gave his two weeks notice, five days later when he and Charlotta had their last fight. The second cut hay was in the barn, the fall lambs and hogs were close to being weaned, and we were nearly ready to start tapping maples again. The first snow of the year covered the ground. Those two hadn't been getting along much, even I could tell that. He was quieter than ever after that day he wanted to take Francine to the vet. On more than one occasion I'd heard them fighting when I was working in the hay barn — that house they lived in didn't have much insulation, didn't keep the cold out or the anger in. Maybe he didn't like that she spent all her time on that air mattress in front of his big screen tv. Maybe she didn't like that he was just a farmhand. Maybe they both thought they could do better. Once he asked me how to fix a broken window pane, but wouldn't tell me how it broke. I noticed these things, filed them away the same way I would if a hog needed wormed or an ewe couldn't keep up with the flock. Despite that, when he gave his notice, I just figured Charlotta would go with him. What else would she do?
He'd given his two weeks on a Wednesday and sure enough the next Monday, five days later, he was gone. He was supposed to meet me that morning at my place, right after he'd fed the sows at his place. When eight thirty came and went with no sign of him, no response to my texts, I went over there knowing they'd be gone. A well-fed sow is a happy sow, but a hungry one will hunt for trouble and knowing I was shorthanded, the last thing I wanted to do with my morning was herd loose sows back to their pen.
The Fiat was gone, but when I peeked in a window it looked at first glance like everything was still there in the kitchen — toaster on the counter, coffee pot in place — like maybe they hadn't left in the night after all. I wondered for a moment if I was wrong, if maybe he hadn't split but was hurt somewhere on the farm. But then I peered into the living room and, sure enough, that big screen tv and air mattress were missing. That confirmed it — I was shorthanded again.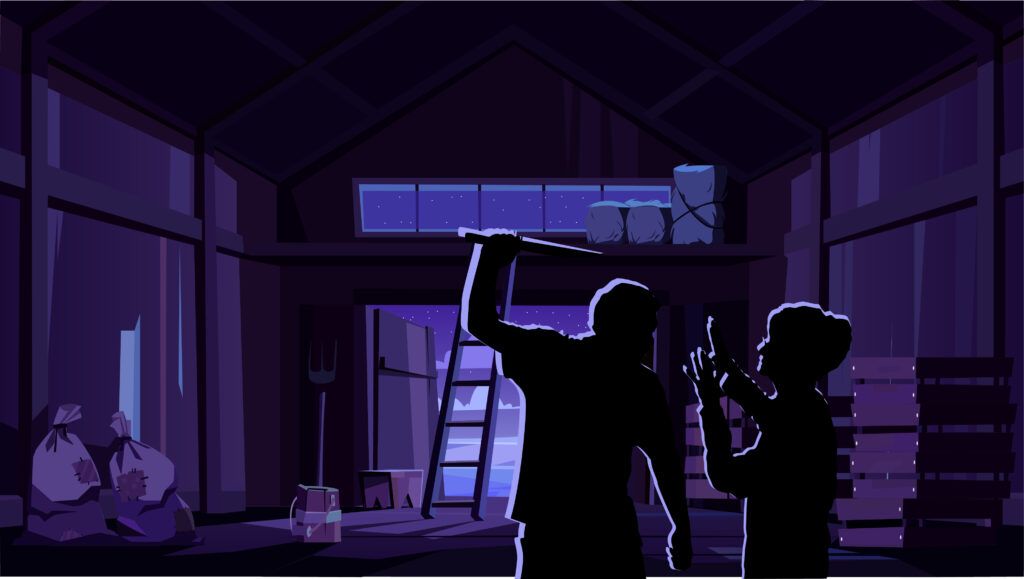 First things first, I figured I'd better feed the twenty sows who were still waiting for breakfast. It had been snowing since about five that morning and as I crossed the driveway to the sow barn, I noticed there were no tire tracks in the snow, meaning they probably left the night before. Going into the barn I grabbed a couple buckets of hog feed and started filling the feeders. Hungry sows came fast, complaining about the delay, wondering why their breakfast was late, except for two. They stayed behind on the far side of the barn in a tug of war over something. I banged the buckets together to get their attention. At the sound one sow gave up the contest and came to the feeder. The winner, something in her mouth I couldn't quite make out, took her time coming over so I jumped into the pen to see what she was carrying.
I've seen some things on a farm most people never stop to think about. Dogs eating the ass end out of an ewe while she lambs. Fawns stumbling around on one leg, the other three cut off at the knee by a hay mower. A man stuck to the ground by a pitchfork he put through his own foot. But when I got close to that sow, I saw something I'd never seen before — a pig with a Nike in her mouth. I guess despite the fun she'd been having with the shoe, sows still prefer corn and soybeans to sneakers because she dropped it as she neared and went to eating with the others. I picked up the shoe and could tell right away by the weight of it that there was no foot in it, though that didn't mean there wasn't a foot somewhere down in the straw and pig shit that covered the barn floor, or even already inside a pig. It was about that time I heard the barking.
Going out the open end of the barn into a sort of loafing area the sows had to wallow in, into the daylight and falling snow, there on the other side of the fence was Francine, yipping the way small dogs do when they want your attention. Approaching her, I saw why. Just over the fence, face down and covered with snow, was Charlotta with one shoe on. My first thought was that she looked an awful lot like an overturned water trough. My second was that she was dead. Francine kept yipping and jumping on top of her, but I pushed the little dog out of the way long enough to roll Charlotta over. There was blood in her hair and she smelled like pig shit, a hard scent to shake, but when I did so she moaned, opened her eyes to the heavens and held up her right hand to me, the pointer and middle finger gone, chewed to nubs. Her hair had fallen backwards and I could see that the blood on her head was from where her ears used to be. Damn pigs always do go for the soft parts first. Though they'd pulled the shoe and sock off her foot, it didn't look like they'd gotten any toes. I called the rescue squad and comforted her as best I could.
The story she told came together later that day when she was warmed and bandaged. She'd thought Mathias a fool for quitting, she didn't want to move, and they fought according to their usual script. She grew frustrated when he shut down and wouldn't talk, so she threw a box of strike anywhere matches, handy on the mantle above the woodstove, at him. He ducked but she'd reloaded with his favorite pint glass, the one with a picture of two rams butting heads on it, and it broke on the floor after grazing his chin. At that he smacked her like he had before and she fell, her head hitting the corner of the woodstove on the way down. Later, in his defense, he would say the woodstove knocked her out, not him. When she came to, she was in the hog pen, disoriented in the darkness and pain. Hearing Francine barking, she crawled to the fence, managed to get over it, and passed back out in the snow and muck, where I found her.
In time Charlotta healed up ok. Her hair covered her ears and lucky for her the sows hadn't started on her nose. I knew plenty of farmers who were missing a finger or two. They got along fine and I told her so. When she got out of the hospital, she came back to her old homeplace to recuperate. Her parents came by to help her out there, but she was in no hurry to move back in with them and I told her she didn't need to be. I wasn't going to hire another farmhand. When the time came and she was ready, she started helping me in the woods tapping trees. When the thaw came, she hauled sap from the woods to the sugarhouse, then bottled the syrup and cleaned up with me. In June we started making first cut hay. Just before Thanksgiving, we cut a load of Christmas trees in the woods and stood them up for sale in the party barn. We picked out two of the best for ourselves and when we both had an afternoon off, I helped decorate hers, then she came over and returned the kindness. As we strung lights and hung ornaments, Francine sleeping by my wood stove, we came as close as we ever did to talking about Mathias. "I guess neither of us ever needed him," I offered. She slipped a silver star atop the tree, silent for a moment, leaving me hanging, then answered, "No, we didn't."
For his part, when Mathias drove away in the night trying to leave all his troubles behind, he didn't get very far. That day after he left Charlotta for the hogs, the police found him in the next town over. They asked me to come in and provide a positive ID on him, which I did. After that they left us alone to talk for a few minutes. As usual, he didn't have much to say. But when I asked if he'd thought he'd get away with it, he answered, "Always did before." I found out later that cops in other states wanted to talk to him, too, that somebody along the way had pieced together that every time he left a job at a hog farm, a woman went missing. Give me hayfields and hogs any day, I never will understand people, the things they do to each other.