I didn't see it coming.  I didn't see him coming.  But he did.
====
I had worked in the New York art scene long enough to be used to meeting all elements. From compulsive collectors to wannabes, to what we called "bathroom wankers" (those pretending to be interested in art, but just wanting to use our facilities) to the rich and famous. We were not the million-dollar caliber of gallery or auction house. We were the lower level of the high-end luxury world. This was the 1990's. Five to ten thousand dollars was a predictable, art purchase.
I loved my job and was good at it. It was a cathartic discovery. I had walked into a SoHo gallery in 1987, straightened two crookedly installed paintings, and was hired as a Sales Consultant before the end of the day.
====
A potential art purchase was somewhat choreographed. A variation on the Tom Hopkins "Five Step" method taught for car sales:
Meet and Greet
Qualify and Focus
Presentation
Close
Install/Deliver and Follow Up
The art of the deal: An attractive consultant would focus a walk-in on a piece and if apparently qualified, get them and the artwork into a viewing room. In the early days, the only sales that occurred on the gallery floor were spontaneous. Someone coming in, pointing at a work and saying, "I'll take it." That was very rare.
If there were good buying signs while in the viewing room, the consultant would come out onto the floor and tell me how far they'd progressed and bring me in to "close" the deal. Though I had been somewhat tentative as a consultant, I was fully confident and capable as a gallery Director (a.k.a. Deal Closer). I could read a situation clearly and by this time, I knew how to use my charisma. Obviously I wasn't always successful, but I learned how far to go and did it well.
====
Alecsandra, a gorgeous red headed consultant about age 23, with bright, seductive green eyes, came to me at the front desk and told me she had three "20 something" prospective buyers in a viewing room and thought it was worth my pursuing.
Alecsandra was her given name. Soviet born, she preferred not to mention her Azerbaijanian roots — and she chose to go by an Americanized nickname, Sandy. She did speak Russian fluently, which often came in handy, even though she had no hint of an accent, unless you got a few rounds of booze into her system. Then evidence of her Soviet accent slipped out.
I came into the windowless box of a viewing room and closed the door. Sitting on the black, leather couch were three young men, in town from Atlanta. Spotlighted and hanging on the wall opposite the couch was a large, framed, abstract carborundum "etching". Work by a famous Catalan artist, whose paintings began at a price tag above $200,000. The etchings were by no means cheap, but nowhere near the price of a one-of-a-kind.
After giving some spiel, I focused on the one young man who was clearly the buyer. I asked what he did for a living. He said he worked in the sports world. I asked if I should know him. He responded without being offended, saying he didn't know, but if I followed baseball, then yes. I apologized and said unless he was either a tennis player or the former quarterback for the Green Bay Packers, Bart Starr (my brother had his autographed picture hanging in his bedroom), I probably wouldn't know him. My not being impressed with who he was may have subconsciously been pivotal in what would happen between us.
It wasn't a lie. I didn't know who he was. Other than a couple of Mets games I attended as a kid, I didn't follow baseball, or any popular American sport. I grew up behind Orange Lawn Tennis Club in New Jersey, so I had some familiarity with famous tennis players.
The baseball player put a deposit on one of the etchings. He was in town for a few days. If his team won their double header (I knew what that meant), he'd consider buying the entire set of etchings. They won both games. He ended up spending north of $60,000. As things worked in that gallery, the commission would go to Alecsandra, since he was her client. I earned a percent of each month's profits.
Later that year, without warning, he walked into the gallery on a Thursday, asking for me. Sandy had the day off. He and I sat in one of the viewing rooms for a few minutes before he asked if I could take a walk with him. We headed out the door where we were met by a large, intimidating man. It was clear he was a body guard. The ball player and I walked around SoHo talking for about an hour, with the massive bodyguard following behind. A few times he was recognized. Once by a preteen boy, so the ball player stopped to have his picture taken with the kid.
The next time he came into the gallery, I wasn't working. He was accompanied by a group of friends, one was his new, very publicly recognizable girlfriend: a famous film actress. Two of his friends bought artwork from Sandy.
====
Within a few months, I accepted a position at a competing gallery. Under the terms of my previous contract, I was not to contact clients. It seems I am that rare breed who actually respected the contract and didn't steal pages of client lists when I moved on. Which may also explain why I wasn't more successful in such a cut-throat business.
Six months into my new gig, I got a phone call from Alecsandra saying that the ball player had stopped into her gallery to invite her to one of his games. He asked that she please get me to join her. Had she chosen not to tell me, I never would have known, and there would be no story to tell. But she did call and invited me to the game. It ended up being the first of that year's World Series games against the New York Yankees. Even I understood this was a big fucking deal.
Though we were up in the nose-bleeds, it was a great deal of fun. I couldn't see his face, but with binoculars, I got to see him play.
We had been invited into a room upstairs in the stadium after the game, where select VIPs could meet members of the team. As tens of thousands of fans emptied the stadium, heading for parking lots or subways, we walked to an area where we would wait to be escorted to meet some of the players.
After about twenty minutes, some press person came out and said, "please line up and I'll take you back." Everyone stood and followed the instructions like mindless robots. I rolled my eyes.
We were taken to a low ceilinged, claustrophobic dining/reception room that smelled of stale beer and popcorn. The majority of these fans had won "meet and greet" tickets through a radio station raffle. After standing around for another half hour, I said to Sandy, "this isn't my thing. If he doesn't come in soon, I'm going home."
Two minutes later, he, along with 4 or 5 players from both teams finally appeared. The sycophants crowded around them. Sandy and I stood back, watching from a distance. I could see he shook hands, smiled and nodded his head a lot. As with the other players, he signed some posters, hats and shirts. After autographing someone's baseball, he looked up and saw me across the room. His eyes opened wide and seeming almost relieved, he motioned for us to come over. He hugged me hard and literally swung me around. I don't deny, it felt incredible to be among these fans and have him pick me out as "special." It was oddly dream-fulfilling, being treated more like a personal friend than a fan.
He whispered, "thanks for staying for this."
"This really isn't my kind of scene." I said.
"This is just a press event," he responded. "Please come to the private party tonight at Club Camille back in Manhattan. I'll leave your name at the door."
"Okay, we'll be there." I said.
"We?" He asked.
"Me and Sandy — Alecsandra."
"Oh. Okay. Of course. Yeah."
"I can't go without her. She invited me to come to the game with her."
"No, it's fine," he said. "See you guys there."
As I suspected, when we got to the door of Club Camille, our names had not been added to the guest list and being a private event, we were not given access. I'm a little bit snotty this way. I don't like standing outside a club for more than a few moments.
A stretch limo pulled up and out he stepped with his actress/girlfriend in tow. He initially didn't see me, but for once in my life, I actually screamed his name as he was passing us. He stopped. "Come on," he said, and in we all went.
It's not accurate to say we were alone, but there was a period of time when he and I stood separated from everyone else. This was still before a time I would think about "Googling" someone. Even in the dark, I could see how good looking he was: how beautiful his face was. His lips. And those eyes…
It wasn't easy for me to casually make small talk. He asked what was going on in my life and I remember saying, "tonight's your night. You tell me."
I realize looking back, he would have preferred to have some distracting, "normal" talk. I told him I had changed jobs, and that I was thankful that Sandy had called me. He said, "Wait. You're not at that gallery anymore?"
"No," I said. "And because of my contract, I wasn't allowed to email you."
He stared at me. He became quietly furious. "Listen, I am surrounded by ass-kissers all day long telling me what they think I want to hear. I can't believe this. You should have told me."
"What?" I said, shocked. "First of all, I would think you might respect the fact that I actually followed contract rules. I'm sorry. Why are you so pissed?"
He threw out, "We're friends, aren't we? Jesus."
I define "friend" differently than many people. Famous or not, to me, he was a client and a good acquaintance. His thinking I was a friend changed things for me.
His team didn't win the World Series, by the way.
====
Months went by. He occasionally sent an email with some arguably personal stuff, including an engagement announcement with a pic of him and his fiancée. Sometimes I'd see his photo on the sports page of a New York newspaper displayed on a newsstand or in some entertainment rag where he was paired with the beautiful movie star.
====
The following spring, I had two friends visiting from London. We were out to dinner in Chelsea when I got a call on my cell from an "unknown caller." Today I wouldn't answer. Back then, I did. It was him. His fiancée was hosting a screening of her new film and I should come to the movie theater. I told him I was with friends. He said he didn't think he could get too many people into the screening. I said, "no, that's not what I mean. I'm not free to come."
"Oh," he said. Silence. It hadn't occurred to him that he'd actually be turned down. "How about you meet us later? Some friends are coming back downtown to the Mercer. What about meeting us at about 11:30 tonight?"
"I'll be there."
I got to the Mercer Hotel in SoHo before everyone arrived. There was an area in the lobby partitioned for the party. When the group arrived, it was primarily actresses and models. Also two of his childhood friends as well as members of a southern rock band I didn't know. It was a fun spot in which to be sitting, as I watched celebrities walk through the hotel lobby. The ball player sat and talked with his friends and me. But he was having a hard time keeping his eyes open.
"You don't need to stay up and entertain us," I said. "Go up to bed. And thanks so much for including me."
He stood, leaned over to his wife-to-be and whispered something in her ear. She nodded. He headed for the elevators and went up to his room. I said goodbye to the group and left the hotel.
My cell phone rang. "Unknown Caller."
"Hey," I said, knowing it was him.
"Hi. Thanks for coming by. Was good to see you. Sorry I couldn't spend more time with you guys, but it wasn't really my party, if you know what I mean."
"I get it." I said.
"Where are you?" He asked.
"Huh? Oh, on Prince Street heading to the subway."
"Would you be up for a drink?" He asked.
I stopped dead in my tracks. "Um, sure. Where?"
"You live here, not me," he said. "Some place quiet."
"There's a sweet bistro on the corner of Spring and Thompson, about a 5 minute walk from the hotel.
"Give me fifteen." He hung up.
====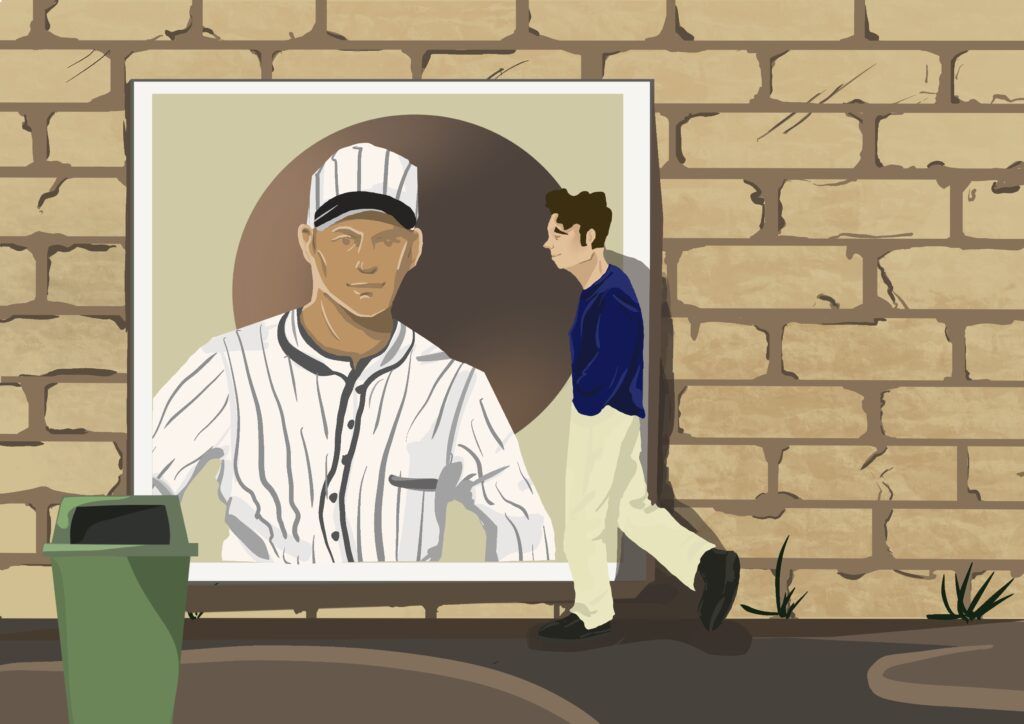 His fiancée knew. She didn't know about me specifically, but she knew. It was perfect for her. She had a high-profile ball player for photo ops and was able to keep her true private life private. Her one stipulation was that he be absolutely discreet and that it never come back to bite her. If it did, she would deny knowing anything and very publicly act hurt and betrayed.
At the bistro, he didn't confess anything to me other than wanting to get the hell away from everybody. I knew nothing about ball players, but he was under a spotlight as intense as movie and rock stars.
We talked for a couple of hours, mostly about him, frankly, until the bistro emptied out and we were the only two left in the bar/restaurant, besides the staff and owners. When he tried to pay the bill, the owner wouldn't give him the check. He pulled out a bunch of twenty-dollar bills and left them on the bar. We walked out together.
Under an awning in the SoHo darkness on Greene Street, he kissed me so passionately, I couldn't catch my breath. Surprised, I put my hands on his chest and pushed him away. He pulled me back in, wrapping me completely in his arms, pressing his body so close to mine, I collapsed without any pretense of a struggle. I willingly folded into his body.
"I can't take you back to the hotel…"
"I know," I said. "This isn't Notting Hill."
"And you're not Julia Roberts…" he said.
"Caught that reference, did you? How very gay of you…"
"This time of night, there's no way it wouldn't be noticed."
"And your fiancée is up there. I understand," I said.
"She's not the problem, believe it or not. We have an entire floor of rooms to ourselves. Even if we went in separately, since the elevators are behind the reception area, there's a good chance they wouldn't let you up without asking for your room key." He said.
I took his hands in mine, and said goodbye.
As I began walking away, he asked, "What about your place?"
I turned around. "It's uptown — and I have a doorman. I don't want to do anything to-"
He pulled out a baseball cap (not his team, by the way…) and lowered the rim below his brow.
"Wow. That doesn't look at all obvious," I said with sarcasm. "What, no sunglasses?"
He put his right arm over my shoulder and we walked the desolate streets until an empty cab came by. He flagged it down, like a seasoned New Yorker, and we climbed in.
When we pulled up to my building, my doorman barely looked at us when he opened the glass doors.
"Hello, Mr. Rohm" was all the doorman said to me.
In the elevator, he kissed me again.
"There are cameras." I said.
"Fuck it…" he said.
We got out on the 14th floor and walked to my steel door. As we came in, he didn't even make time to begin a conversation. He pinned me gently against the foyer wall and with just the distant city lights coming through my living room window, he began to undress me, his hands traveling with practiced know-how. I wasn't sure if it was confidence from overwhelming fame or past experience. And at that moment, I didn't really care.
He stayed the night. At dawn he slipped out of my bed. Picking his clothes up off the floor, he began to dress, finishing by putting his baseball cap on backwards. Then, fully clothed, he crawled on top of my naked body, kissed my mouth one last time, turned the baseball cap around, and left without looking back.
====
I didn't know what to do with this. I can be a very private person. I can also talk too much. This I kept to myself. I heard rumblings around the gallery neighborhood, but refused to engage in any conversations. For those who knew me, my closed lips confirmed that something was going on. I pretended to be annoyed. Below the surface, I was loving it.
Time passed, with no contact from my ball player. I stopped thinking about it beyond deciding it would never be anything beyond a fantasy fulfilled.
====
Years passed — literally. I took a final Director's gig that would last for 10 years. Sometime early in my commitment, he called the gallery. I went to the subterranean level for privacy and picked up the extension, nervous and a little flustered.
"Hey," I said, trying to sound nonchalant. "What's going on? Been a while."
"How are you?" He asked. "I've been meaning to give you a shout. I moved to a different city. You know how it all goes."
"Actually," I said, "I don't."
"I was traded to another team," he said. "Listen, I'm looking at some commercial real estate out here and thinking maybe I would open a gallery when I stop playing. I know John McEnroe did it in New York. Maybe I'd do something like that here. You know, get some sports guys into collecting."
"So, what do you want from me?" I asked.
"You sound pissed off."
"I'm fine. I just think it's kinda funny that when you finally need something, you look me up."
"You are angry," he said.
"Are you asking me to come out and run the gallery?" I asked.
Total silence.
"Calm down," I said. "I was just putting it out there…"
"I haven't planned that far ahead. I was thinking you'd know how I go about starting things up. I have some artists I really like, including that guy who does a lot of sports figures. Maybe you could…"
"I don't represent that artist and honestly, I'm not really a fan of his work. My old gallery carries his work, so even if I wanted to, I can't make any introductions."
"Okay. I get it. But if I have some questions about the business, you okay if I give you a shout?"
"Sure. Whatever." I said.
"Drew…I…I'm sorry."
"What for?" I asked, fuming. "I gotta go."
I hung up.
What did I really expect? That I'd be his gay side-piece while he married some a-list movie star? And if I was here for him to fuck, there were bound to be men in other towns where he played. No. One night meant nothing. It means nothing.
Not long after, my cell phone rang — "unknown caller." I was having lunch with my mother, out of state. I excused myself and went outside of the restaurant to answer the phone.
"Hey, it's me." He said. So arrogant that he'd think I'd know who it was by the sound of his voice. Damn it, I did.
"Hi. What's up?"
"I'm looking on your gallery website. There's a really cool painting. I think I'd like to buy it for my wife."
His wife. They got married.
We created an elaborate 'surprise' for her. Our gallery closed at 6. The following night, they would stop by at 8 pm, on their way to dinner to celebrate her birthday. I should get a bottle of good champagne and he'd show her the painting.
Though my colleagues wanted to stay and see the actress and the ball player, I knew absolute privacy was expected.
A little after 8, they showed up at the front door of the gallery, dressed to the nines. I unlocked the door and brought them to the back viewing area, where I had hung the painting, spot-lighted in a blacked-out atmosphere. I opened the champagne and poured them each a glass. I explained a little bit about the artist, the imagery and the method of creativity. I could see that she was uninterested in anything I had to say. I'll never be able to confirm this, but I think she knew who I was. I left them alone in the viewing room.
About 15 minutes passed and they came out. He thanked me for staying late and said he'd call to arrange for delivery. She completely ignored me. They headed out into the warm night, off to her birthday dinner.
I locked the gallery door, sat down, turned off the lights and began to cry.
====
They stayed together. The following year, she was nominated for an Oscar. He was at her side. Their private life remained just that. He never called me again.
I would like to say that I wish him well, but I'm not that emotionally generous. All these years later, I admit it's a good story to own, but I think I'd be better off never having met my baseball player. For me, it is a blinding flash from my past, never spoken about. For him, authenticity and maybe even love are necessary sacrifices he was willing to trade for fame.